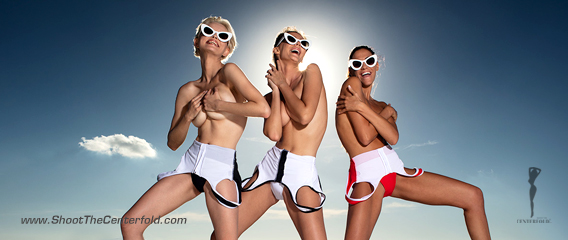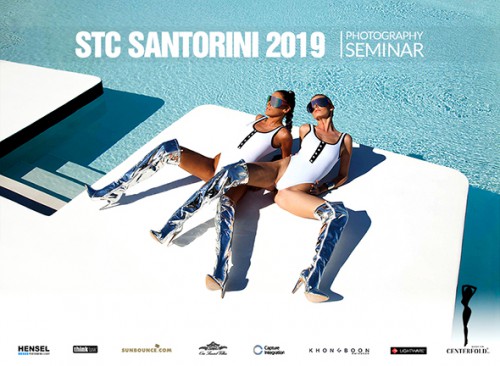 Join STC as we talk to Santorini 2018 Best Photo winner Blayne Uto, a delightful man and excellent photographer. He must be because Blayne topped them all at last year's event. His passion for photography is evident not only in his work, but also his dedication to learning. Blayne has attended 8 Shoot The Centerfold events and is signed up for number 9, Santorini 2019!
Blayne, a Hawaiian resident who loves to travel and photograph beautiful models, impressed us all with his winning capture that met all the quality ingredients we look for in a "perfect" image. It's not an easy task to photograph three models together and attain the winning image that came together perfectly for him. Though we're still unclear how much of a hotness factor our three models, Julia Logacheva, Noemi Kappel and Rebecca Perry may have contributed to the final image in addition to Blayne's photographic skills. We'll let you decide.
Interview:
STC: Thank you for your STC serial-attendee status and for shooting the best image at STC Santorini 2018. You have become a very familiar face at our seminars.
Blayne: Hi fellow STC members. Yes, it is true that I have attended many STC Seminars in the past and continue to attend these great events. In fact, I am attending the Santorini 2019 event, making it the third consecutive year. One may ask, "Why?" My response, it has brought me success.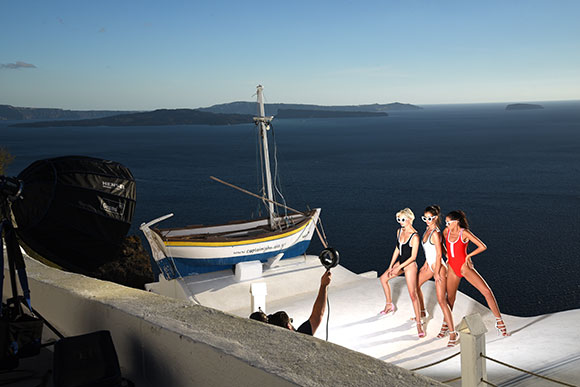 The setting for the winning image – behind the scenes – Hensel Grand 90 modifier
First and foremost, you get to meet many new and interesting people from all parts of the world and can learn a bit from everyone you meet. Second, STC has gathered top instructors, each with unique perspectives and styles who are willing to teach you how they do things.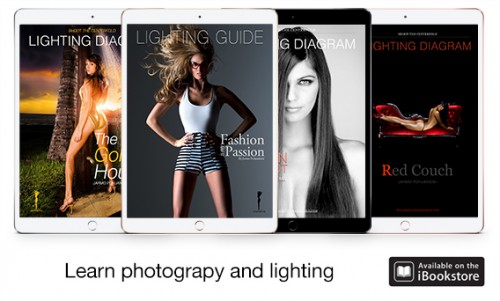 Each seminar is different and I find that in every workshop that I have attended, I took away many new techniques and methods that I find applicable to situations that I encounter. Third, how many of you on your own can walk into an agency and book any of the top models that STC employs during their seminars? Fourth, where else can you use top of the line equipment such as Hensel Lighting and a Phase One camera before you decide to buy any of them? And you can still shoot with your camera as well.
Fair warning though, after you use Phase One, you will feel the need to own one for yourself. So, you get to work with top photographers, models and equipment with a team including stylist and MUA extraordinaire Mary Alejo while traveling to exotic locations learning to improve your technique. What's not to like? Plus, Mary ensures that everything runs smoothly 🙂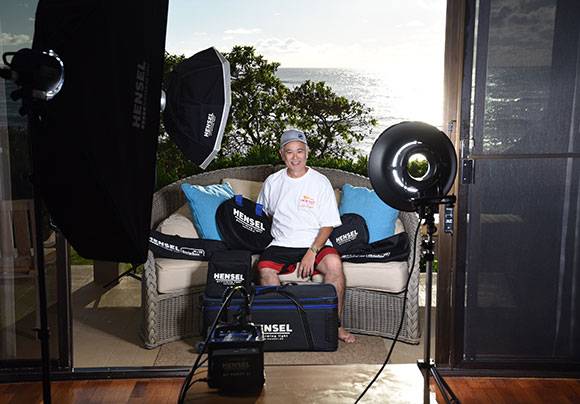 Blayne Uto's Hensel arsenal and home studio with a view
STC: When did you discover photography and how did you get started?
Blayne: I started around 1971 learning how to operate a Sony black and white videotape machine to record football games at my High School. Got my first camera in 1974 and started taking photos throughout my college days learning how to process black and white images in a small darkroom in my dorm. After completing college, I worked for a time in a one-hour photo lab (remember those?) and eventually wound up with a small photography company. During that time I was fortunate enough to be able to do some photos of the Hawaiian Tropic Beauty Pageant, which led to me meeting Ric Moore and Kevin Kuster from Playboy. It is through Ric that I got introduced to STC and once I was able to attend my first seminar, I saw the value of attending and continuing to attend.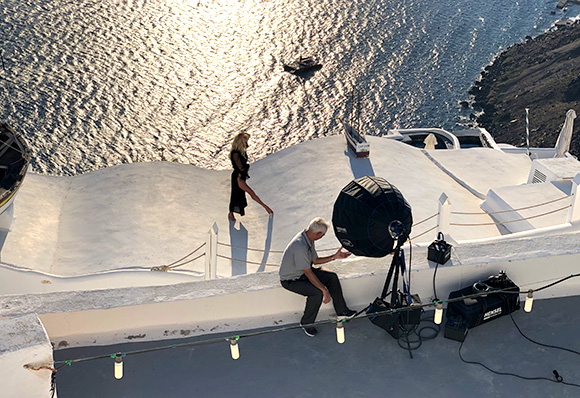 Pre-production is the key to my success says Blayne Uto. Hensel Grand 90 / 1200 Porty pack
STC: When did you come across Hensel Lighting equipment and which items do you currently own?
Blayne: I discovered Hensel Lighting equipment when I met Ric Moore in Hawaii shooting the Hawaiian Tropic Pageant. After being amazed at what he could do with his Hensel Porty and Ring Flash out on the beach in Hawaii, I wanted one. Years later, after attending my first STC Seminar, I purchased a Hensel Porty Kit and have since added three Hensel Integra Monolights and several Hensel light modifiers, including a couple of Hensel Beauty dishes. Being based in Hawaii, I can't say enough about how well the Hensel Porty does in putting out enough power to overpower the bright sun here. Plus, you can't beat the quality, durability and consistency of Hensel. As far as future Hensel equipment goes, I think I can either get another Hensel Porty, an Integra or Expert D monolight.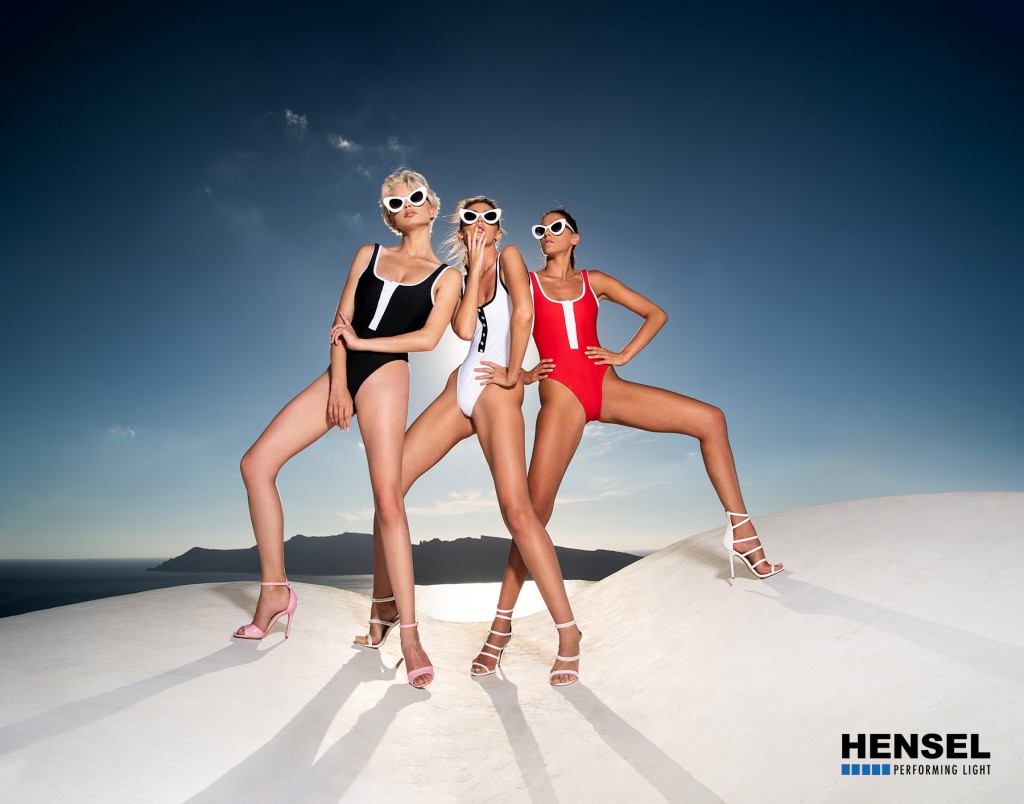 Best commercial image from STC Santorini 2018 by Blayne Uto – Click to enlarge
STC: Your first STC seminar was in Miami. What were your initial expectations about our seminar line back then?
Blayne: My first STC seminar was at the Dezer Car Museum in Miami. First, I was excited to be able to meet the instructors and observe how they each would light and photograph a particular location. Also, I was interested in seeing how they each communicated with their assistants (if any were present) and with the models in particular before and during the shoot. Lastly, I was particularly interested in seeing the Hensel Lighting equipment and how each instructor utilized them. It was there I concluded to make my first purchase of Hensel Lighting equipment. I purchased a Hensel Porty kit plus a large beauty dish for the Hensel Ring Flash.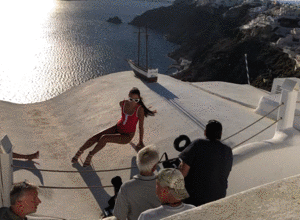 Blayne Uto on the hot seat and giving models a quick break
STC: You live in Hawaii and seem to travel quite a bit. Where are some of your favorite places photographically speaking, and where would you like to shoot in the future?
Blayne: As I live in Hawaii, I guess I can't say Hawaii, but as far as locations go, there are quite a few. Iceland, Rome, Spain, Yosemite and Lake Louise, Canada as high up on my list of places to go to. However, anywhere that STC would like to organize a trip to. I think that I would be interested in going perhaps to Germany, near the Hensel Headquarters. That would be a great location (hint, hint).
(STC: Iceland has been in the works for a while, but due to busy schedules we have not been able to set official Iceland dates as of yet. Perhaps in 2020-2021 we can go and melt some ice in a big way.
Hensel EU has suggested a few places in the past year where we should conduct a seminar there in Germany and take a tour to Hensel Headquarters and see first hand how all the Hensel magic happens.)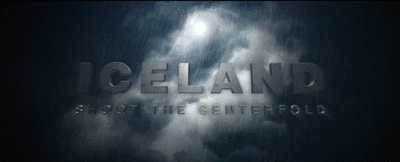 Here's a little Teaser to feed your appetite of possibilities planned for 2020-2021
STC: Your winning photo from STC Santorini 2018 made an impression at Hensel and everyone now wants to see what's next? Do you see yourself pursuing your photography in the same commercial style?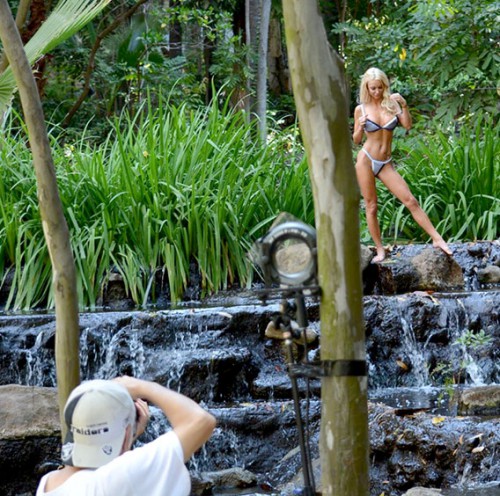 Blayne: Well, Santorini is next once again and I challenge all of you out there to be the winner of "best photo" of Santorini 2019. As I have already reserved my spot, let's see what everyone's got. You can rest assured that STC has lined up top tier models and staff members. Know this; Mary Alejo will have a unique, if not, one of a kind wardrobe selection ready. It's always been a team effort though. The better the team, the better the results. I love learning more about lighting techniques and how I can become better and efficient with my lighting gear. I like lighting situations that show me what else I can do with my Hensel Porty. Hensel Porty was a significant factor in my winning last year.
STC: This year, we have a whole new program and bonus lessons such as the business of photography and marketing. Do you see this as added value for those who seek to make a career out of photography?
Blayne: The newly added programs are what makes everything stick if you intend to make a career out of your photography. Learn how to market yourself and make more money from your photography while enjoying the picturesque Santorini. I learned that photography is so much more than just clicking camera.

Santorini offers some of the most spectacular settings for photography – Click to enlarge
STC: In your opinion: What are some of the biggest hurdles that hold photographers from advancing?
Blayne: I think the most important challenges presented to them is a better understanding of the business of photography and post-processing techniques. From workflow to marketing, it all needs to work together smoothly to keep you on the right path to publishing.
STC: What camera would you consider next?
Blayne: Possibly a new mirrorless camera, as I also shoot sports events in addition to models.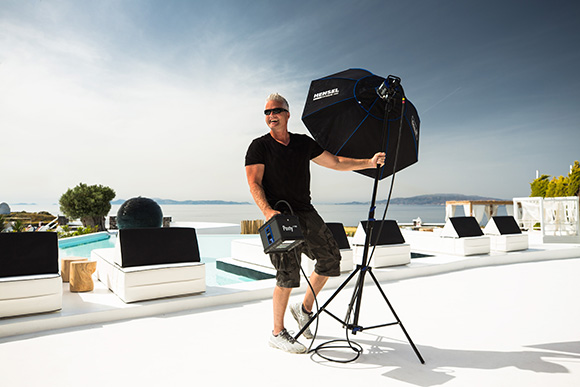 Your set is ready for STC Santorini 2019. Join us for an epic experience. Photo: Joe Tejeda
STC: We will have several Phase One XF camera bodies and 150MP IQ4 digital backs at STC Santorini 2019 for you to use along with every single Schneider-Kreuznach LS lens made today. Dave Gallagher from Capture Integration will be joining us for workflow demonstrations and camera questions.
Blayne: I look forward to seeing Dave Gallagher again. I've been in awe ever since my first Phase One experience. I still go and compare the earlier images to my other camera just as a reminder about quality. You must try it and compare your pictures, to truly appreciate the difference.
Well, I guess we are done for now. Thank you and I appreciate the interview. Hope to see you all at STC Santorini 2019.
STC: We look forward to seeing you again and creating new magical images and memories.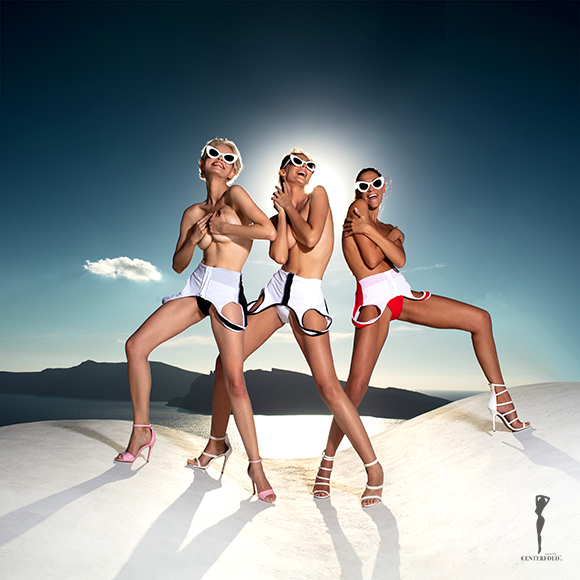 Whoever said that photography shouldn't be fun?
© 2010-2019 Copyright ShootTheCenterfold.com. All rights reserved.