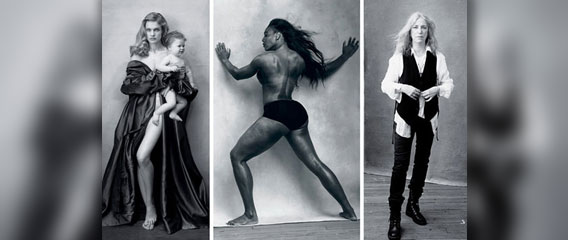 When Agnes Gund, the 77-year-old philanthropist and president emerita of the Museum of Modern Art, got the call, she thought: "That's odd. What's that got to do with someone like me?"
When Fran Lebowitz, the 65-year-old author, got the call, she said, "I thought it was a joke."
Along with Playboy's decision in October to end nudity in its pages, the Pirelli pivot seems to give real substance to the theory that we are at a flexion point in the public objectification of female sexuality.And when Mellody Hobson, the 46-year-old president of Ariel Investments, a $10 billion money management firm based in Chicago, got the call, she mentioned it to her husband, the filmmaker George Lucas, who raised an eyebrow and said, "Do you know what that is?"
You can understand the quandaries, given that the call came from the office of the photographer Annie Leibovitz, and involved a request that each woman participate in the 2016 Pirelli calendar, the arty soft-core ode to pinups produced by the Italian tire manufacturer, shot by renowned photographers, starring supermodels, and never sold but given to an exclusive group of 20,000 "V.I.P.'s, musicians, politicians and royalty," according to a company spokesman.
To say that women like as Mesdames Hobson, Gund and Lebowitz are not its usual subjects is something of an understatement.

In the 50 years since the Pirelli calendar was conceived as "an eye-popping advert for their high-quality products, a freebie that would be proudly displayed and obsessed over year-round by their target market," according to "The Calendar: 50 Years and More," a coffee-table book from Taschen, it has featured a completely naked Kate Moss, Lara Stone and Joan Smalls (2012, Mario Sorrenti); Gisele Bündchen, Karen Elson and Carmen Kass playing peekaboo with bottoms and bosoms (2001, Mario Testino); and a topless and/or naked Christy Turlington, Naomi Campbell and Nadja Auermann (1995, Richard Avedon).
But that was then. On Monday, a new kind of Pirelli calendar was unveiled, showcasing 12 months of fully clad women (mostly) chosen for their achievements. Though the calendar has, on rare occasions, featured women in clothes (most notably in 2013, when it was shot in Brazil by Steve McCurry), this is the first time there is no provocation in the posing, and the first time the attraction of the subjects is in their résumés, not their measurements.
Along with Playboy's decision in October to end nudity in its pages, the Pirelli pivot seems to give real substance to the theory that we are at a flexion point in the public objectification of female sexuality. Especially because the calendar, which is introduced every year with a giant party attended by not only the fashion flock but, in 2012, by Luiz Inácio Lula da Silva, the former president of Brazil; and, in 2014, Roberto Maroni, the president of Lombardy, has become something of a collector's item.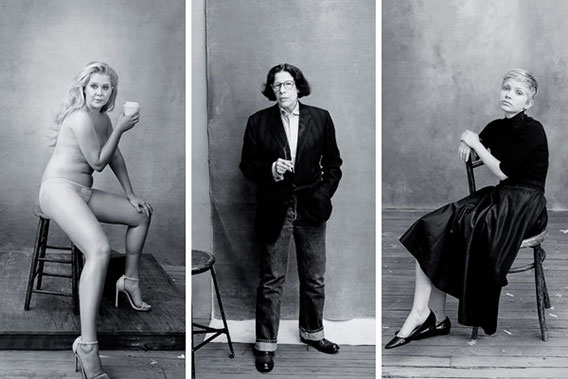 Amy Schumer, Fran Lebowitz and Tavi Gevinson.
It's been immortalized in two Rizzoli books ("The Pirelli Calendar: The Complete Works, 40 Years" and "The Pirelli Calendar: 1964 — 2001, The Complete Works"). It is, to a certain extent, a historical record.
And what it is recording this time is "a very macro trend," said Jennifer Zimmerman, the global chief strategy officer for the McGarryBowen advertising agency. "We call it the rise of the shero" — that is, the female hero. With the switch in subject matter, she said, "the greatest offender had become the greatest bandwagoneer."
Aside from Mrs. Gund (March), who was photographed with her college-age granddaughter; Ms. Hobson (June); and Ms. Lebowitz (May); the calendar stars Yoko Ono (October); Ava DuVernay, the "Selma" director (July); Shirin Neshat, the Iranian artist (September); Kathleen Kennedy, the producer of "Lincoln" (February); Patti Smith (November); and Tavi Gevinson, the millennial media maven and actress (August).
The exceptions to the fully-dressed rule are Serena Williams (April), who is pictured topless, back to the camera, muscles gleaming; Amy Schumer (December), in a lingerie with her stomach rolls on display (the joke being she was the one who did not get the message); and the model and philanthropist Natalia Vodianova (January), in a voluptuous satin robe with one bare leg exposed and her youngest child clutched in her arms.
"We are in the midst of a perfect storm of cultural icons and politics and Hollywood," Ms. Zimmerman said. "Between the first credible woman presidential candidate, all the powerful female characters on television from 'Supergirl' to 'Madam Secretary' to 'Scandal,' the pressure for parity in pay, it is impossible to ignore the empowerment of women. Besides, who uses a calendar anymore? It has to stand for something else."
There's little doubt that the Pirelli pivot will be widely perceived as a political statement, not least because Ms. Leibovitz had shot a Pirelli calendar in 2000 that featured more traditional and unclad models like Laetitia Casta posed as classic Greek nudes. But is it simply an example of calculated exploitation of a social trend, a clever attempt to profit from the spirit of the age or a more permanent commitment to change?
That the answer is still under debate is indicative of just how sensitive this issue remains.
"I feel it helps put a new perspective on women of achievement," Ms. Hobson said. "You have to give them credit for being bold at this moment. We have a long way to go, but this is part of that journey."
Altruism and political correctness aside, there is also a compelling economic reason for Pirelli to change direction. It is hard to see the conjunction of the new calendar and the rise of the female dollar, along with the fact that increasingly women are directly driving (no pun intended) or influencing purchasing decisions, as simple coincidence.
According to Antonio Achille, a partner and managing director of the Boston Consulting Group, female income worldwide totaled $18 trillion in 2014 — "an enormous untapped opportunity" — especially because within the luxury car market in the United States, 50 percent of vehicle purchases are decided by women, and 75 percent are "influenced" by them. Beyond that, Mr. Achille said: "Women are superb brand ambassadors. Women share a positive car experience with more than 20 people on average, while men share experiences with only two."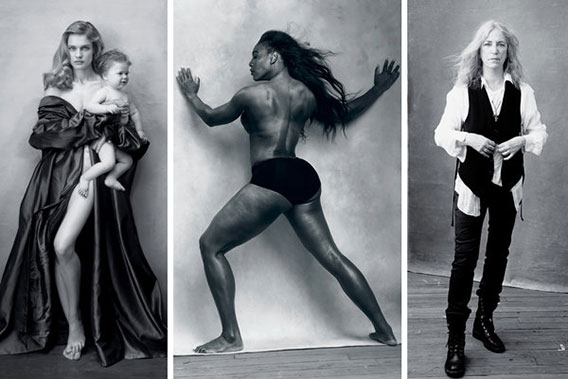 From left, Natalia Vodianova, Serena Williams and Patti Smith from the 2016 Pirelli calendar.
And as Ms. Zimmerman said: "Women have a disproportionately loud voice compared to their male counterparts. And for those women it is no longer socially acceptable to walk into a high-end garage that sells Pirelli tires and see a calendar with naked girls on the wall. You'd drive right out again in that Mercedes you came in with."
(To this point, in September Mercedes created a digital platform/print magazine/event called "She's Mercedes" dedicated to "a place where women can connect and exchange ideas.")
All of which creates something of a conundrum for Pirelli. Part of what has made its calendar so successful are the celebrated names it attracts, who provide the tire maker with the halo of their artistry. And the way it attracts them is by giving them total creative freedom: to go where they want, pick the women they want and photograph them as they want.
It was the chance to work with Annie Leibovitz that persuaded her subjects to be in this calendar, just as it was the chance to work with Steven Meisel that got Gigi Hadid to pose in molded black latex last year. Forging relationships with photographers on such shoots can change a model's career. According to Ivan Bart, the president of IMG Models, which represents Ms. Hadid, her Pirelli shoot with Mr. Meisel directly resulted in the photographer choosing her for the cover of W and Italian Vogue.
Neither Ms. Hobson nor Mrs. Gund are attending the gigantic party Pirelli is hosting in London on Monday to unveil the calendar, underscoring the fact that their relationship was with Ms. Leibovitz, not Pirelli. As Ms. Neshat said, "I didn't feel like I was selling out by doing this as much as helping Annie support a new idea about female style and beauty."
And yet it is Pirelli that will get the credit for being forward-thinking, and whose pivot has been implicitly endorsed by women like Ms. Neshat. Simply by being a part of the calendar, she gives it a whole new credibility.
Pointedly, however, the company itself is careful to say the about-face was Ms. Leibovitz's idea, and to paint the current calendar as part of a continuum, as opposed to a rejection of its former ways, thus leaving the door open for another switcheroo. Indeed, Marco Tronchetti Provera, the Pirelli chairman and chief executive, said that the pivot is simply another example of the way the calendar "reflects contemporary society."
In other words, next year, under a different photographer, at a different stage, the vision could change. Even if, as Fran Lebowitz said in a making-of video, "perhaps clothed women are going to have a moment," moments by definition pass. And Mr. Bart (not surprisingly) said, "I would not discount models, especially as they become real personalities."
But Ms. Zimmerman thinks the new-look calendar would be "a hard thing to go back on."
"Right now Pirelli can legitimately claim they were empowering women as part of the sexual revolution of the 1960s, and this is an authentic modern expression of that," she said. "But to do another 180-degree turn would start to seem like psychosis. It would confuse the message."
She is not alone. "It would be a huge disappointment," Ms. Neshat said, if Pirelli 2017 were to "abandon the idea of the women who define modern life, and go back to sexy girls who are too young to have accomplished anything."
Tavi Gevinson also believes the calendar reflects a point of no return, though for a different reason. "A white, able-bodied cis-gendered woman being naked is just not revolutionary anymore," she said. "I don't think anyone is going to be like, 'Damn, I wanted those naked chicks.'"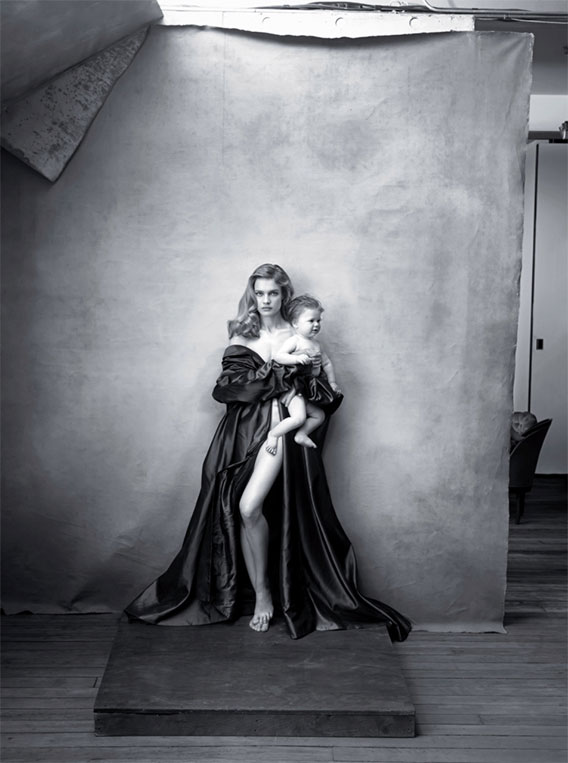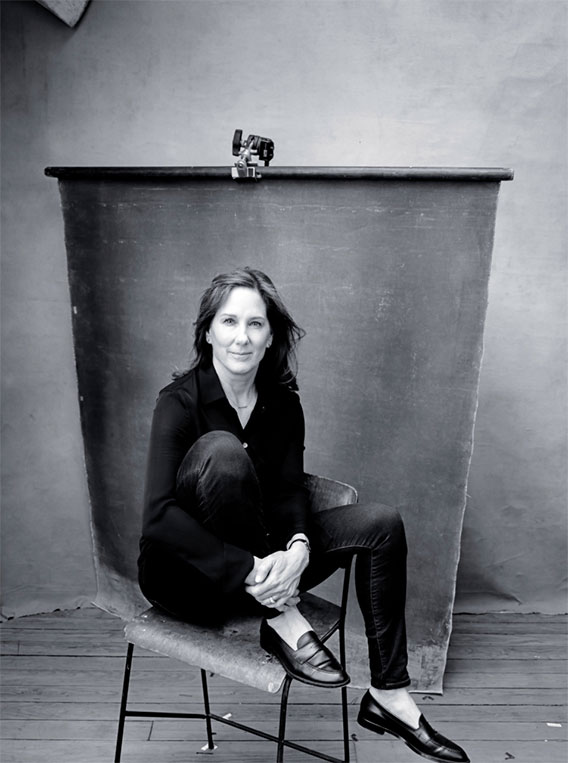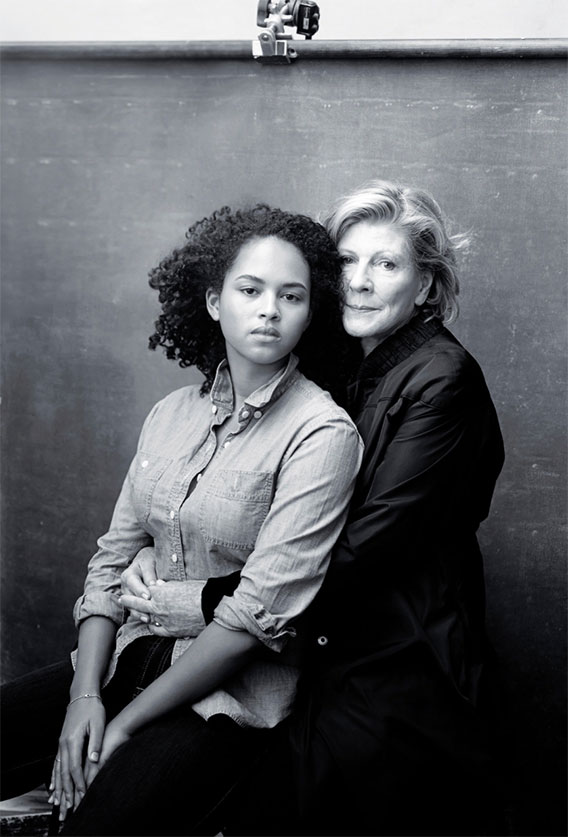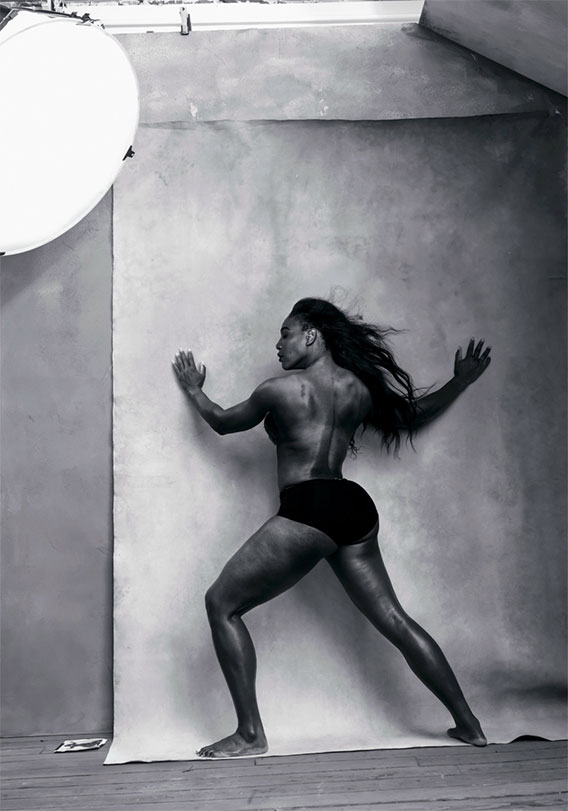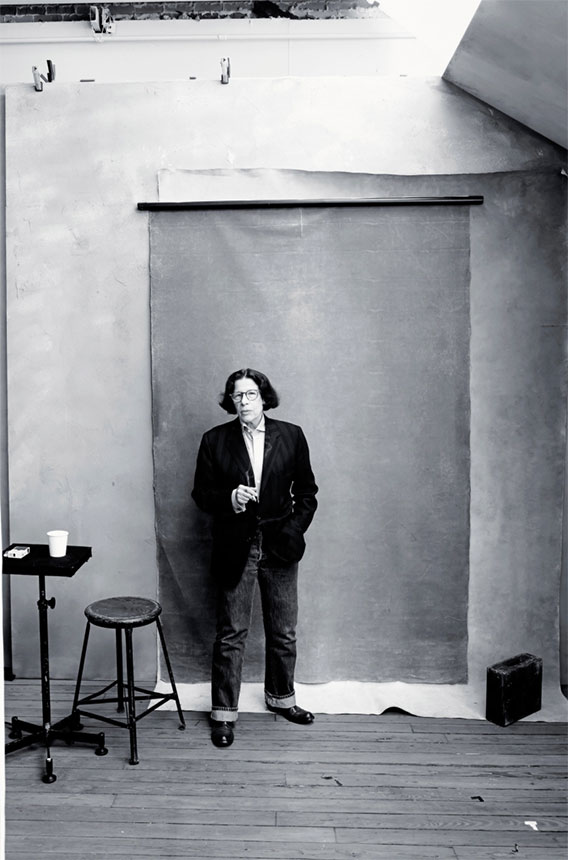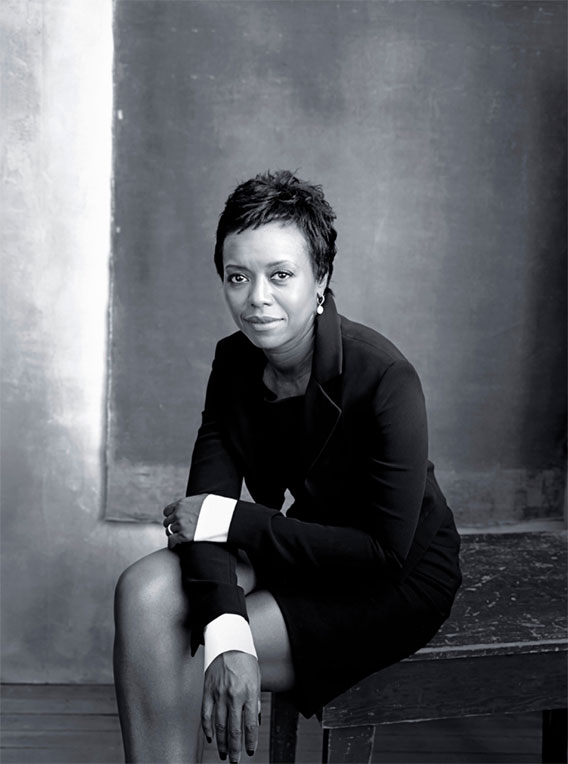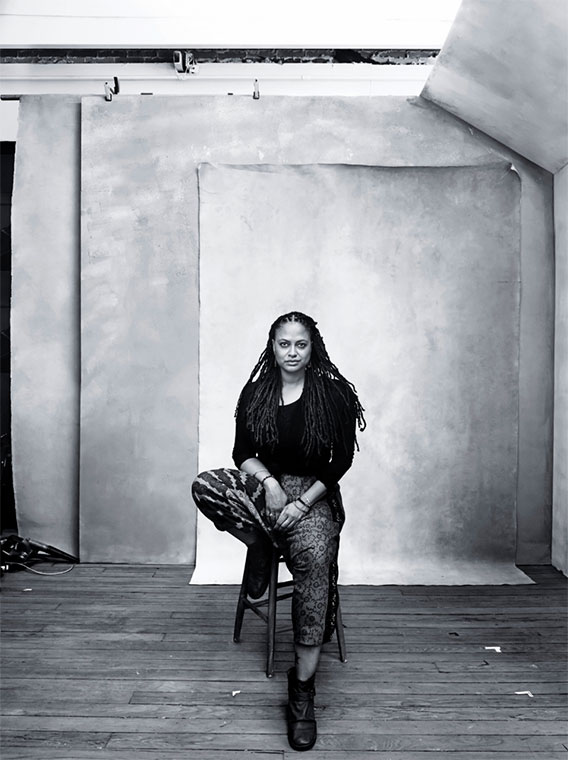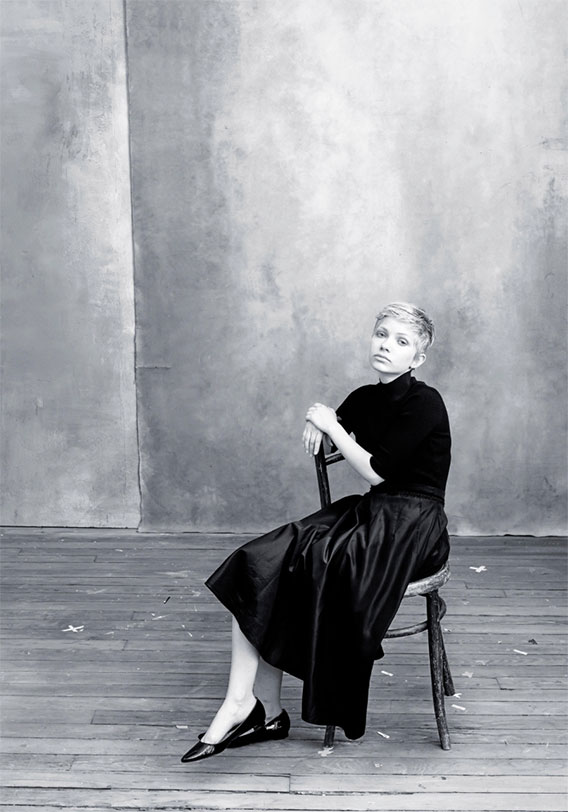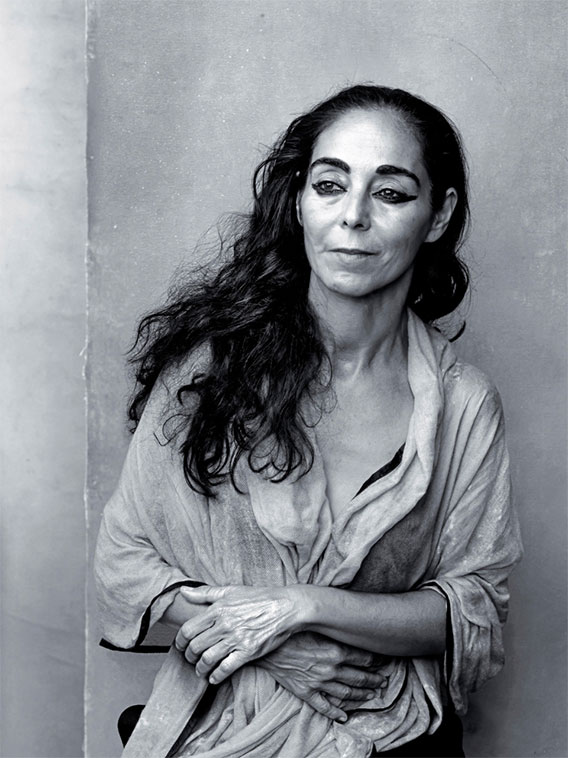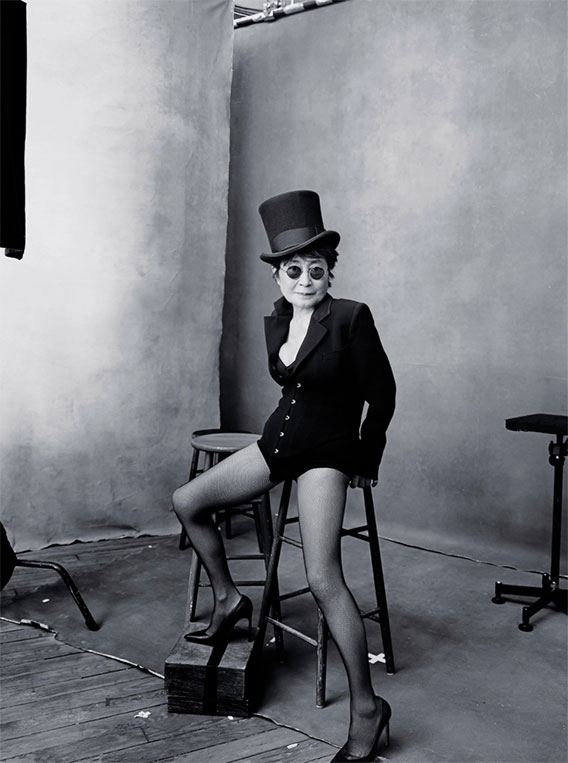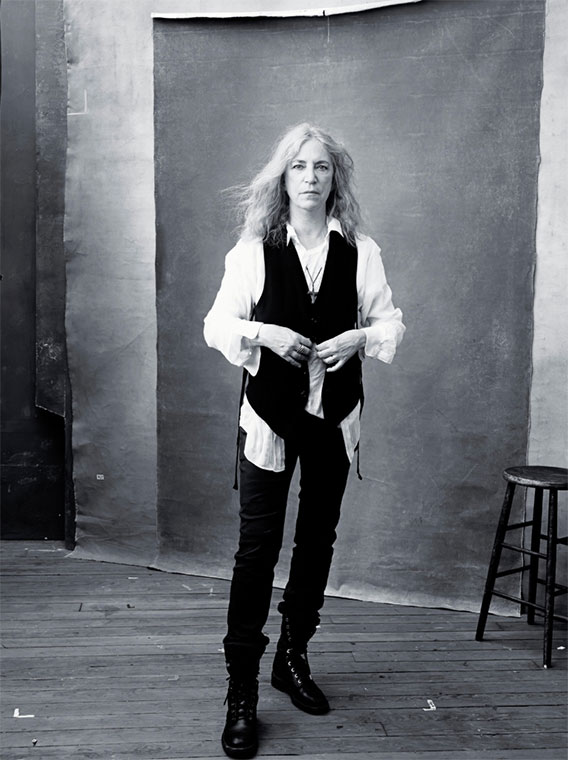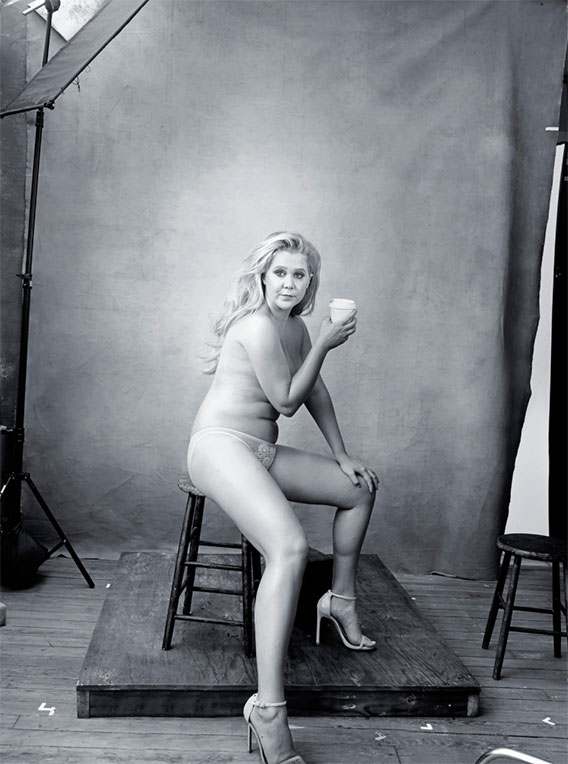 © 2015 Copyright ShootTheCenterfold.com. All rights reserved.