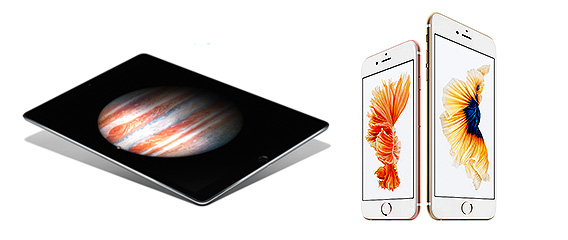 Apple has updated its two smartphones. The new iPhone 6S and iPhone 6S Plus are available in four colors: silver, gold, space gray and rose gold. The devices are now made from 7000 series aluminum, which is an aircraft-grade material. It's stronger than the previous phone aluminum and is unlikely to bend.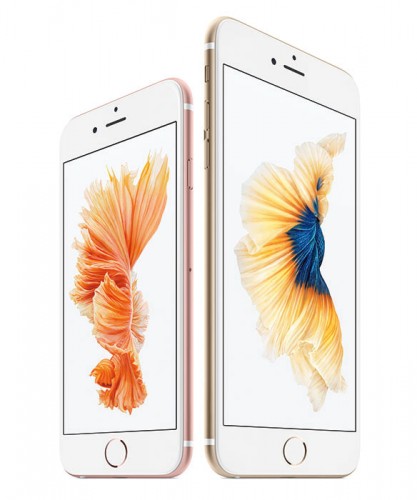 The devices' biggest addition is a 3D touch screen, a feature introduced on Apple trackpads and the Apple Watch, that was previously known as Force Touch. The technology recognizes new gestures like pressing and holding. It vibrates slightly to let you know it's been pressed.
The new iPhones also come with a 12 megapixel iSight rear camera, with 50% more pixels than the iPhone 6. The front-facing camera is now 5 megapixels (for sharper selfies).

A kooky new photography feature called "Live Photos" combines photos and videos. When you take a photo with the Live Photo setting on, it records a second-and-a-half video before and after the clip to make a tiny little video. Press and hold on your photo and it will play.
The phones also have the new A9 processor and faster fingerprint sensors. There are new charging docks to match the colors of the iPhones as well as new covers. The phones will cost the same as the last version (starting at $650 and $750 for the 6S Plus). The previous versions (iPhone 6 and 6 Plus) will each drop $100.
A new iPhone Upgrade program lets you lease an iPhone for $32 a month and get a new version every year. The new iPhones will go on pre-sale on September 12 and will hit stores on September 25. IOS 9 will be available on September 16 for anyone with an iPhone as old as an iPhone 4S.
iPad Pro
As expected, Apple is making a bigger, faster iPad. The iPad Pro is 12.9 inches. It's the same height as the iPad Air, so you can run iPad Air apps side by side. The screen has 5.6 million pixels — more than a 15-inch MacBook Pro with a Retina display. The iPad Pro starts at $799.
Inside it's much faster. The iPad Pro has a new A9X 64-bit chip. It's 1.8 times faster than the previous iPad's CPU ("desktop class" according to Apple executive Phil Schiller). It is powerful enough to edit three streams of 4K video at a time. It has a 10-hour battery life, is super thin and weighs just over 1.5 pounds.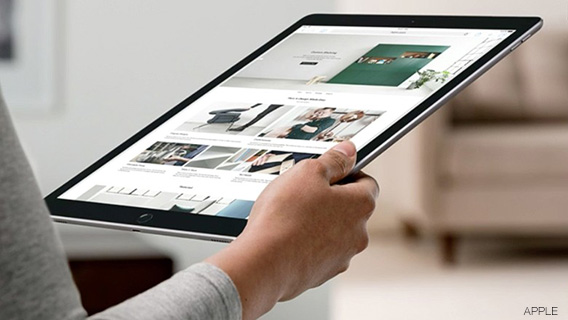 "Why make an iPad with a bigger display?" asked Schiller. Good question!
Games and movies look better on a bigger screen, he said. It's big enough to have a full-size keyboard on the screen. If you don't want to type on the screen, Apple has made a new smart keyboard that doubles as a cover, Microsoft (MSFT, Tech30) Surface-style. The keyboard is coated with a thin fabric.
The company is also making its own stylus, but with the usual over-the-top design and marketing. Yes, it's the Apple Pencil, a low latency stylus that feels like a real pencil. It even got its own Jony Ive narrated videos. It "feels like a true writing or drawing instrument," said Ive. As the name implies, the iPad Pro's real target audience is business users. To show that it's serious, Apple brought out a very unexpected partner to demo the iPad Pro: Microsoft's Kirk Konenigsbauer. He demonstrated Microsoft Office for iPad Pro using the Apple Pencil.
Adobe also demoed its iPad Pro apps including a new product called Photoshop Fix, a retouching tool. Using the iPad Pro and new stylus, Adobe's Eric Snowden did some realtime edits including the odd choice of changing a photo of a model to make her smile more. (It was the first woman on stage during the presentation.)
[Apple]
© 2015 Copyright ShootTheCenterfold.com. All rights reserved.