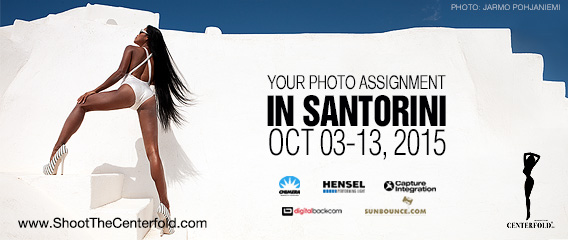 To insure that every participant gets the maximum benefit from his/her shooting experience during the Oct 03-13, Santorini photo excursion, Jarmo and I are offering each of you the opportunity to accept the following photo assignment. Of course, this is a practice assignment to see how well you perform when given specific parameters from a professional editor and photographer.
The assignment breaks down into three parts:
1You're shooting a girl pictorial for Playboy or Maxim Magazine. As I was Photography Director for Playboy for many years, I can give you a very realistic description of what you might be asked to do.

This pictorial can include nudes if you and your model are amenable to the idea and the situation permits. However, it does not have to include nudity. In fact, one of the most important aspects of this assignment is how ingenious you are with handling implied nudity.
You've obviously seen lots of successful examples of implied nudity in Maxim, Victoria's Secret and the Sports Illustrated swimsuit issues. However, there remains a great deal of unexplored territory when it comes to this type of photography so let's look for new and compelling solutions to the problem of showing a girl's face and figure to full advantage while at the same time capturing a sense of sensuality and sexuality in your images without actual nudity.
At your arrival to Santorini you will receive a pictorial layout-map, which will give you a better understanding what we need for an actual pictorial.'Think in terms of a pictorial representation of a romantic getaway to Santorini between the girl (model) and you (the camera). For the purpose of this exercise, let's assume we want to create an eight-page pictorial out of your shooting. From experience, I know that might be the starting point of an assignment but a great shooting could get more pages, a weaker shooting fewer pages. Whichever the case, the dynamics of what you need to create in the shooting remain the same.
Let's start by assuming we need some images that establish the arrival of you and your "girlfriend" in Santorini. I could give you a dozen examples of how to accomplish this but I'll let you figure out your own solution. Clearly the girl isn't overly revealed in these first photos. She will be animated, relaxed, funny, candid.
(CAUTION: Never shoot any religious figure, church, mosque or temple with a model.)Then you'll explore Santorini a bit with her. The sky, the water, the architecture should all be included. Santorini is famous for its light so make sure you make good use of it. You may include (with their permission) some of the locals. Your model can be shopping, dining, drinking a coffee, playing with a cat…allow the girl to show her personality, her spontaneity. Every layout requires a great face shot.
Don't shoot only one option; shoot several. Think about what might be the full page opening photo in the layout. If it's a one-page opener, the photo should be vertical. If the pictorial opens on a full spread image, it needs to be a horizontal. And don't forget that the designer might need an area for type on that horizontal opener. I have had photographers suggest layouts to me when they submit their shootings. This is not necessary as part of this assignment but, nevertheless, think about the realities of a layout as you are planning and executing your shooting.
At your arrival to Santorini you will receive a pictorial layout-map, which will give you a better understanding what we need for an actual pictorial.'
(Layout-maps are used by publications to allow the editorial department to visualize the flow and pictorial content before the actual printing.)
Then move onto the more revealing photos which will obviously make up the bulk of the pictorial. As I stated earlier, if you and the model are agreeable and if the circumstances in Santorini permit, you may shoot some nudity as part of the assignment. How you do it, where you do it is up to you. Again, think in terms of both verticals and horizontals.
Make sure there is a bit of Santorini throughout your shooting. After all, the theme of the pictorial is a romantic trip to the island.Even if you are including nudity as part of your shooting, I would like you to put a special emphasis on sexy non-nudes. Images in which your model is sexy but the nudity is always implied. How you do this, how well you do it will be a key factor in the success of your shooting. Does she cover her breasts with her arm or hands in some shots? Is she covered by a wet sheet or perhaps simply a shadow?
A thousand solutions have been used and there are at least a thousand yet to be discovered. Your images should make the point that sometimes not seeing everything can be every bit as sexy or even sexier that being completely revealed. Have you been watching women's beach volleyball on TV? Those little shorts tucked into a butt may be sexier than if there were no shorts at all.
We need to see and appreciate the beauty of the surroundings. As for what your girlfriend (model) is doing in the photos? She is sometimes posing for the camera but often she is caught in a completely natural moment. Her youth and energy should show. Is she athletic? Does she dance? Can she learn to Greek dance? Can she down a shot of ouzo? Does her hair and makeup match the situations? Does she always look at the camera? (I hope not.) Is she flirtatious, pensive? The layout will need to become increasingly intimate so think about that as you are creating situations. The pictorial will likely end with the images which project the strongest sense of intimacy, of sensuality.
Cover
2Everybody wants to have at least one published cover to his credit. So let's make that the second priority in your assignment. The image can be a full figure shot or a face shot. Come up with your own ideas. Obviously you should shoot with a vertical format in mind. Also, don't forget to allow space in your photo for the magazine logo and for some cover lines. A stroll to any newsstand will offer plenty of examples of different solutions to the problem.
Deliver Beyond
The rest of us will await the results as we envy your experience. And, who knows, you might open a door for some publishing too.3Finally, shoot something a little arty, something that we might enlarge into a big print and sell at a gallery. Shoot something that goes beyond typical glamour, something you might hope to put into an exhibit of your work at a gallery. And also shoot some little architectural details of Santorini. Morph into a National Geo photographer for a couple of hours and give a sense of what it is like to actually be there. Even if I was there, show me something that my eye might gloss over.
The above is a general outline. Extra points to those who go beyond, that surprise us with what they do…as long as you also fulfill the basic requirements of the assignment.
Jarmo and I will judge the results upon your return, give each of you feedback and declare a winner or perhaps two winners. Perhaps you'll all be winners. Let's see what we get. Learn, shoot, and, most of all, have fun doing what you love to do.
For all of you out there who aren't lucky enough to be on the Santorini trip
For those of you not lucky enough to attend the Santorini shootout, feel free to take on the above assignment in your own way, in your own location, with your own model. Simply adapt the assignment to fit what's available to you. The fact that this assignment does not have to include nudity should make it even easier for you to attempt. If you shoot in the next month or two, you should be able to utilize mostly outside locations. If it is Long Island or a farm in Indiana, a ranch in Arizona or a cityscape in Chicago or LA, there's always a way to turn your shooting into a romantic weekend. Use a boat, use a car, look around you for ideas and inspiration.
Jarmo and I are more than happy to give you an in-depth critique of your shooting as we will for the Santorini participants. The cost of this critique is $250.00 and will be delivered a week or two after you submit your shooting and payment to STC. Always been hoping for an assignment from a professional photo editor?—here's your chance to learn how well your photography measures up to the real-world requirements of the publishing business.
Please evaluate my pictorial: Click here!
Fly above Santorini
Here is a quick video to give you a little taste of magical Santorini and the city of Oia which will be your stomping-grounds during the STC Oct 03-13, 2015 seminar. The largest daylight studio you have ever visited with its beautiful architectural settings will be impossible to resist not to mention the most beautiful sunsets that will highlight your everlasting memories.
Most photographers rank Santorini number one when it comes to places to shoot. Enjoy the video!
© 2015 Copyright ShootTheCenterfold.com. All rights reserved.