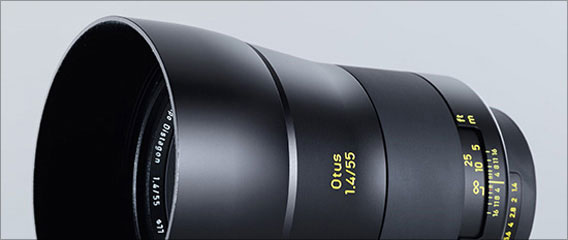 The ZEISS Otus 55mm F1.4 lens stands out with technical features ideal for all-around professional photography with 35mm DSLR cameras.
With an imaging performance that has hitherto only been seen with medium format systems, the new ZEISS Otus 55mm F1.4 lens offers ambitious photographers who do not accept any compromises in image quality the possibility for a more compact gear. DSLR cameras with high-resolution 35mm sensors put enormous demands on lenses. The Zeiss Otus 55mm F1.4 lens can deal with these demands thanks to its outstanding sharpness, high image contrast and no visible chromatic aberrations.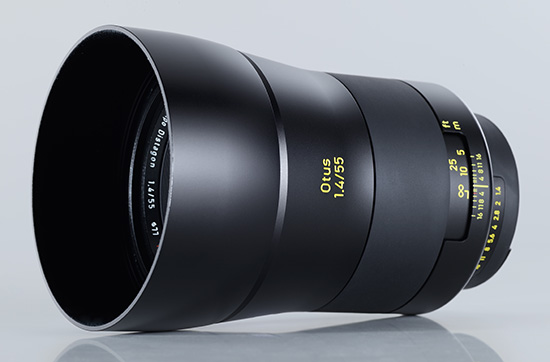 The Otus 55mm F1.4 lens creates the highest-possible image quality, even with an open aperture. The new ZEISS lens is especially suited for advertising, fashion and studio photography, and professional photographers working in these fields will not need to make any compromises in terms of performance and quality. The Otus 55mm F1.4 is the first lens in a family of uncompromising professional lenses from ZEISS.
Zeiss 55mm f/1.4 Otus Lens Technical details
Focal length: 55mm
Aperture range: f/1.4 – f/16
Lens elements/groups: 12/10
Focusing range: 0.50m – infinity
Angular field: (diag./horiz./vert.) 43.7° / 36.7° / 24.9°
Coverage at close range: 246 x 163mm
Image ratio: 1:6.8
Filter thread: M77 x 0.75
Length with caps: 141mm (ZF.2) 144mm (ZE)
Diameter: 92.4mm
Weight: 970 g (ZF.2), 1030 g (ZE)
Mounts: ZF.2 (F bayonet) Nikon; ZE (EF bayonet) Canon
The Zeiss Otus 55mm F1.4 delivers outstanding sharpness and contrast rendition all the way into the corners of the image.
Here's a video comparing the optical quality of this 55mm with your standard "fast 50″ lens:
 If you cannot play the video,
Click here!
The lens is officially up for pre-order in both Canon EF and Nikon F mount at the not-so-affordable price of $4,000. Both mounts are expected to ship early next month.


© 2013 Copyright ShootTheCenterfold.com. All rights reserved.