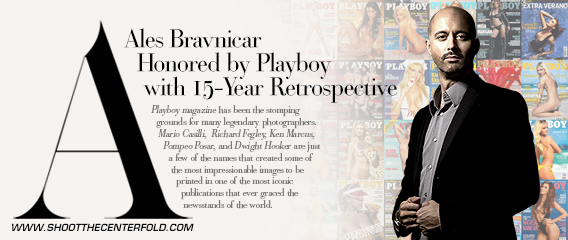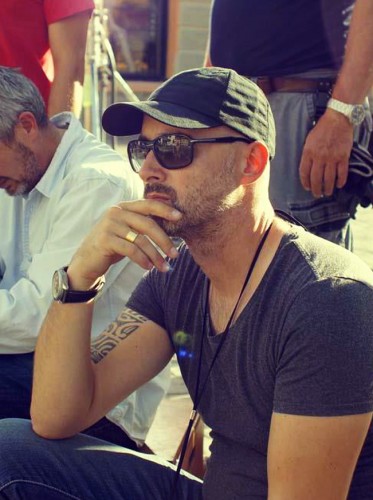 Playboy magazine has been the stomping grounds for many legendary photographers. Mario Casilli, Richard Fegley, Ken Marcus, Pompeo Posar, Phillip Dixon and Dwight Hooker are just a few of the names that created some of the most impressionable images to be printed in one of the most iconic publications that ever graced the newsstands of the world.
To be accepted into this small club of excellence was no simple feat. However, being able to survive and build a career by consistently outperforming their peers in the industry and, more importantly, themselves, was a completely different challenge and only the few and strong were able to do so.
With this being said, we are very proud to announce that our friend Aleš Bravničar is being honored in Playboy Slovenia with a retrospective celebrating his amazing fifteen years of shooting for the magazine. In this past decade and a half, Aleš has shot 30 Playmates, 22 pictorials, more than 100 female Slovenian celebs for the magazine's page 3 "Babe of the month" feature, and, to date, has photographed 56 covers.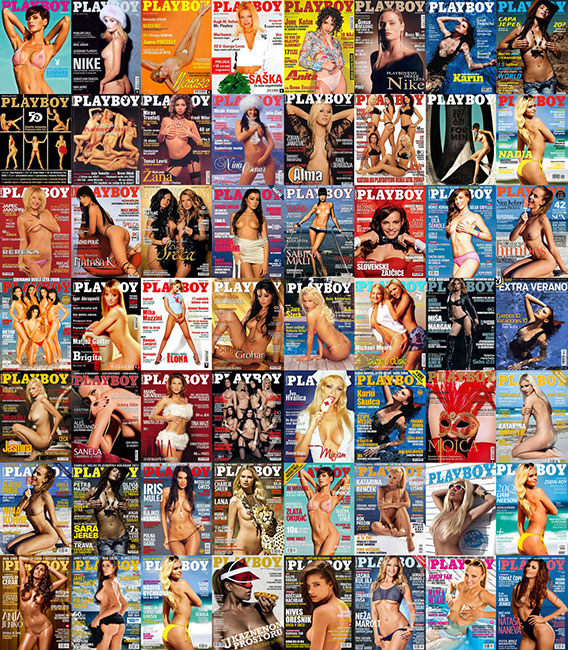 Playboy covers by Ales Bravnicar
Born in 1975 in Ljubljana, then Yugoslavia and now the Republic of Slovenia, he first got a taste for photography when his father entrusted him with his 1938 Leica IIIc. "It was the shiny chrome Leica body that lured me into taking pictures," says Bravničar, "Such a beautiful piece de resistance; a bright, shiny camera with an amazing pedigree."
His passion for the craft only intensified over the years and by the mid-1990's, he was one of the most sought-after Slovenian photographers. Since then he has authored more than 300 magazine covers and covered numerous fashion stories for Slovenian and international editions of popular magazines, such as ELLE, Playboy, Grazia, Cosmopolitan, Maxim and FHM.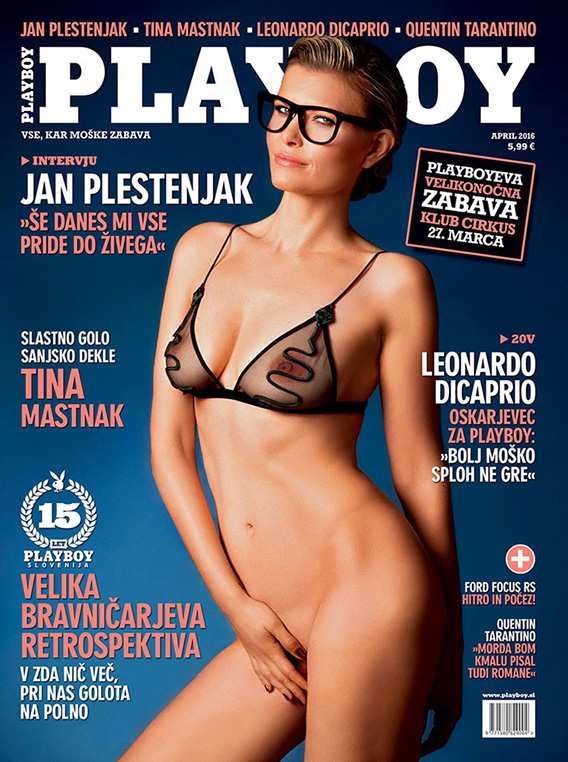 Ales photographs his beautiful wife for the cover of his retrospective issue

In 2001, he got his foot in the door with Playboy. He was a contributing photographer for their office neighbors Cosmopolitan and his presence made an impression. Playboy gave him an opportinity with a Playmate shoot with a Ljubljana "girl next door" Nike Zalokar. The pictorial got picked up by US Playboy and Aleš became the first person from Slovenia to be featured in Playboy USA.
Thirty Playmates later, Aleš was invited to Hef's private movie screening at the Playboy Mansion in Holmby Hills and to Playboy Studios West. "It was awesome!" says Bravničar. "Hef still has my embroidered photograph of Natalija Osolnik, a top model from Slovenia, up on his wall at the mansion and has sent a photo to prove it."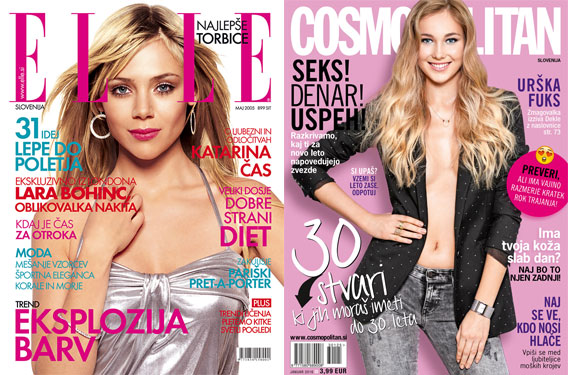 Fashion covers by Ales Bravnicar
Beyond his mastery of lighting and photography, Aleš can also attribute part of his success to his almost insatiable wanderlust. He has travelled to over 95 countries and not being satisfied with just glamour and fashion, he also shoots travel stories. "I have over 200 travel journals and stories published, from the first census in Afghanistan to the Transsaharan road of Western Africa, from the Uros of Peru to the splendor of Tahiti. One of the results was the big project Miniverse, exhibited in Triennale di Milano and Maxxi Museum of modern art in Rome.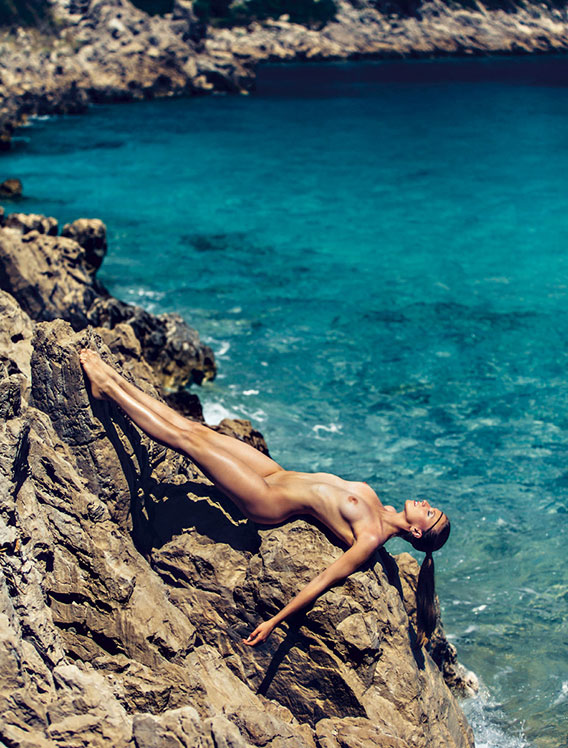 Though he has been shooting for Playboy Slovenia since 2001, the consistent inclusion of his pictorials began in 2009.
I was shooting for Maxim and Playboy, for whatever reason, had taken me off Playmates. So while thinking about the alternative for the Playmate I remembered the pictorials in Playboy France."
At the time, Playboy France was on the forefront and pushing the boundaries of the general "Playboy" concept. They preferred top fashion models over the GND. Instead of using unknown talent, Bianca Balti, Lily Cole and Lara Stone were the subjects for their pictorials and in very fashionable poses.
Playboy editors around the world thought of it as an oddity and looked down on them but I loved the concept instantly being a fashion photographer with twenty years of experience, after all. I managed to persuade our editor to try a pictorial shoot of my own. We went to Egypt to shoot a swimsuit catalog and I shot Slovenian supermodel Sandra Marinovic nude on our only free day there."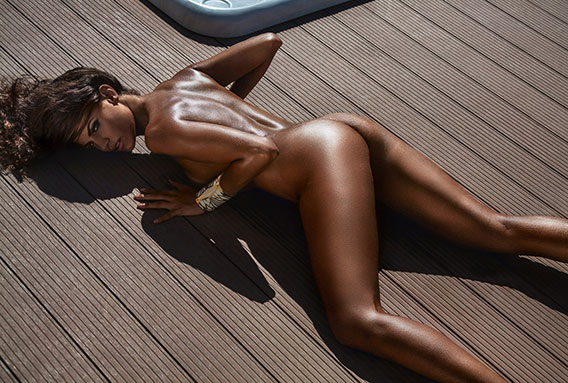 The editors fell in love with the photos and the spotlight was back on Bravničar. His pictorials highlighting top models from Slovenia and Croatia that were shot in exotic places around the world became a staple in his 'native' Playboy Slovenia and virtually every international edition of Playboy world-wide for the past six years. The current count so far is 22 pictorials and counting.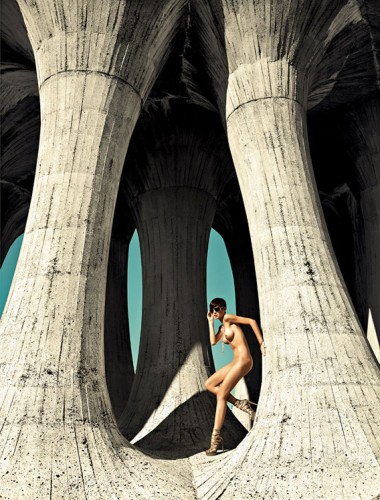 Aleš has paved his own path for success. It's his "simple" formula of: mastery of photography skill, exotic locations, unique models, and being on the forefront of the current trends in publishing and fashion that has been the fuel for his unstoppable trajectory.
We asked what's in store for the future. "
Fashion nudes are the future," he says. "'The girl next door' has changed. It has turned into 'the girl you follow on Instagram'. But good photography will never go out of style. It is not just about one light and a white wall. It is like poetry."
Maintaining fifteen years with a company is no easy task and only a slim few could even dream of such a run. We look forward to enjoying Aleš Bravničar's visual poetry in the future. But, for the time being, we applaud his success and look forward to seeing his well-deserved retrospective.
Congratulations to Ales Bravnicar from the entire Shoot The Centerfold staff.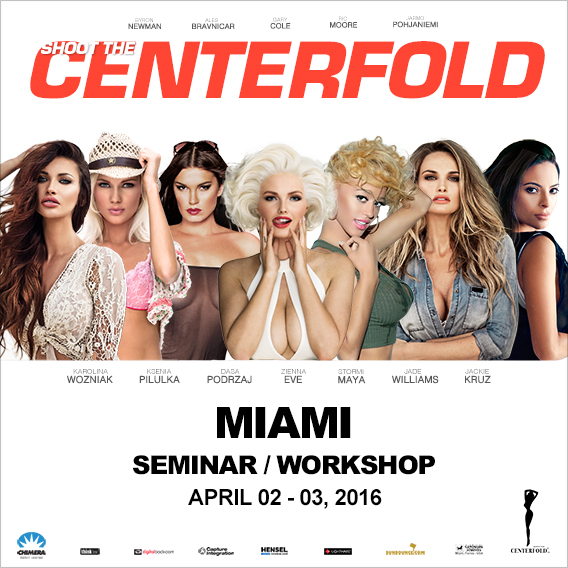 © 2016 Copyright ShootTheCenterfold.com. All rights reserved.