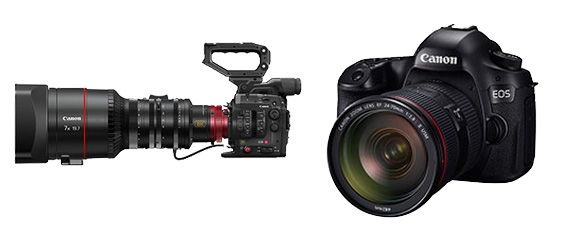 We reported yesterday that camera manufacturer Canon had announced that they had developed a CMOS sensor that could capture images at a staggering 250 megapixels. Though many photographers likely sustained injured wrists by immediately grabbing at their wallets, the sensor, unfortunately, isn't something they are releasing to the general marketplace. Through discussion on our Facebook fan page the notion that Canon, with their ability to manufacture a 250 megapixel sensor, could easily release camera bodies with improvements of 50 megapixels each for the next four years. With today's announcement from Canon it appears that idea wasn't completely far-fetched.
Canon announced that they are developing a DSLR that will be outfitted with a 120 megapixel CMOS sensor. In addition to this, all the 4K lovers should be rejoicing that they also announced the development of a Cinema EOS System 8K camera and display.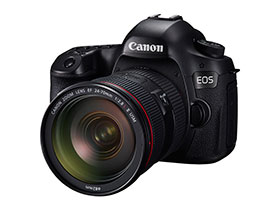 DSLR: 120-megapixel SLR camera (for illustrative purposes only)
In the announcement, Canon explains that the company "aims to contribute to smooth production workflows, facilitating not only the input and output of 8K video content, but also such processes as 8K to 4K down-conversion and 4K cropping." The Cinema System 8K camera will have a Canon Super 35 mm-equivalent CMOS sensor shooting at 8K (8192 by 4320 pixels) at a frame rate of 60 fps with 13 stops of dynamic range. The camera will come with the Canon EF lens mount and will be compatible with 60 of the current EF lenses and 18 EF Cinema Lenses.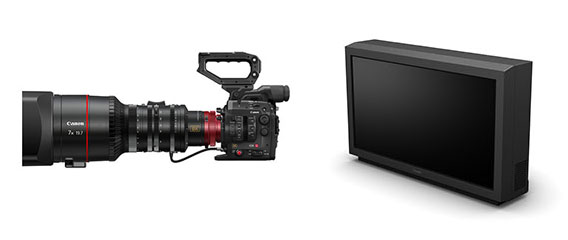 Cinema EOS System 8K camera and 8K reference display (for illustrative purposes only)
The 120 megapixel DSLR that is in development will be compatible with 60 out of the 96 lenses that make up the current EF lens lineup. According to the press release, the images "will recreate the three-dimensional texture, feel and presence of subjects, making them appear as if they are really before one's eyes." With an image resolution of this magnitude, the photos captured by this body will be more than enough for large prints (poster-size to billboard). In addition, crops and trims of images will be possible without much sacrifice in resolution or clarity.
With this announcement, I fully expect to see some great discounts and rebates coming very soon in anticipation for the holiday shopping season and their impending necessity to clear out old inventory in order to make way for the release of these two megapixel behemoths.
© 2015 Copyright ShootTheCenterfold.com. All rights reserved.