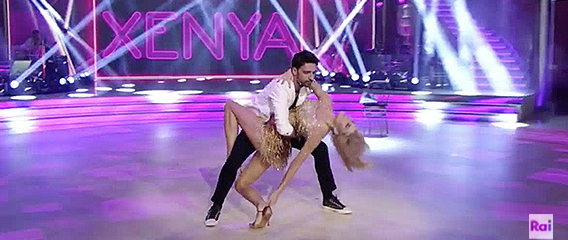 We like keeping an eye on our models and photographers as success smiles upon them. Sparks are flying high for our upcoming Santorini seminar model Kseniya Belousova, who dazzled us in Bali 2016.
In addition to her top-model status with Guess, she has reached a new level of celebrity in Italy with mega-hit TV show "Dancing with the Stars."
The land of spaghetti has gone gaga over Kseniya and her irresistible dance moves. We better get our happy feet and rhythm in order before the May 2017 Santorini trip. It has been said that you can capture a woman's heart with dancing or photography.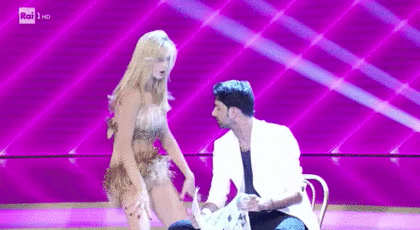 STC: You have stirred the pot in Italy and got the country riled with your sexy hip movements. How did this all happen?
Kseniya: When I was in Lugano for a Guess presentation my manager in Milan asked me if I could come to Rome for a casting for Dancing With the Stars, which I did!
The whole team liked me, but the only thing they suggested was to learn how to speak Italian.
When I returned to Malaysia, I started to learn the language by myself. And when I was in Bali with STC, I worked in the mornings and evenings. I was in my room learning Italian because I had the feeling that they would choose me!
Three weeks ago my manager called and told me that they confirmed me! I was ecstatic because it's such a great opportunity. I am working hard. It is not easy to learn the dance moves and the new language at the same time, but I am trying my best. In the meantime, I have my modeling jobs.
STC: Should STC Santorini attendees take some pre-Santorini dance lessons or are you going to teach us some moves?
Kseniya: Hahaha, you guessed it right. I will teach all of you and you will not only leave Santorini with pictorials but, also with world-class dance moves!
STC: We could use some advanced belly-dancing classes from you. After all, the Santorini seminar is also known for the delicious Greek salads that keep our fabulous waistlines in check.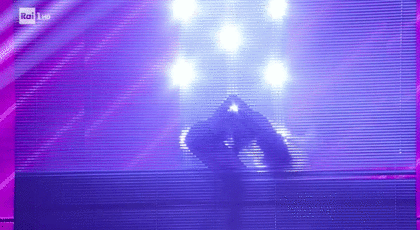 Kseniya: Training in the studio every day while simultaneously keeping my modeling career going is tough. March 12, I have to go to Dubai for the big Guess fashion show for a couple of days.
When I come back to Rome, I have to go back to the studio straight from the airport and keep working on my dancing. I wish I could have a chance to spend time with my family who is now in Malaysia.
I miss them more than I can even express. I hope they will have the opportunity to come and spend at least some days with me here in Rome! All of the work is helping to keep me fit. I'm looking forward to some of those yummy salads!
STC: You are full of surprises and the sexiest vagabond ever. Your life is full of traveling and beautiful experiences. Is it hard to maintain a such a lifestyle?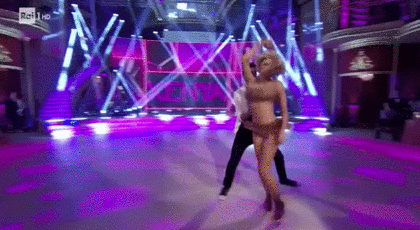 Kseniya: Yes, very hard time to time. But I have learned since I was a little girl that life should not be wasted when opportunity knocks at your door. I cannot thank my clients enough who have believed in me for a such a long time. And, the loves of my life Hugo and Vivian who I miss so much!
STC: Do aspiring models truly understand what it takes to be successful in the modeling business? Would you like to give some advice?
Kseniya: Models must stay strong and have an iron stomach for the tough moments. I think most would crack under the pressure of being away from home close to 300 days per year. The truth about a modeling career is something completely different when compared to what people think. It's extremely hard work, but very rewarding at the same time. Be professional; never slip or think for a second that there wouldn't be somebody ready to take your place.
STC: What are your dreams? You seem to have done it all. Is there something out there that gets you going?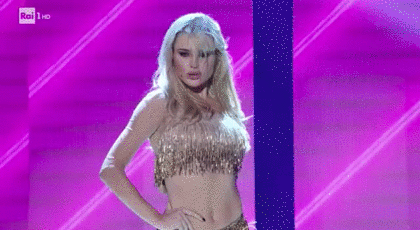 Kseniya: Yes. My dream now is to get a beautiful big house with Hugo in our dream place, have a beautiful wedding, and make our family bigger with two or three more children! And I believe that a dream shouldn't be just a dream it should be a plan because dreams do come true.
It's simply a matter of how much you want it and how much you are willing to work for it! Visualization is a very powerful thing!
I barely have free time since I'm so busy with work, but it's the life I chose. We all make our decisions and choose the way we want to live. I am a big dreamer, and the life I live now is what I always saw in my dreams. I thank God every single day for everything I have today.
STC: While you are conquering the world, we look forward to seeing you again in Santorini and creating mind-blowing pictorials. We have been incredibly blessed by your presence, beauty, professionalism, and delivery. And, we promise to show you our secret dance moves and love, in Santorini.
Kseniya: Cannot wait to see my STC family, in Santorini!
© 2017 Copyright ShootTheCenterfold.com. All rights reserved.