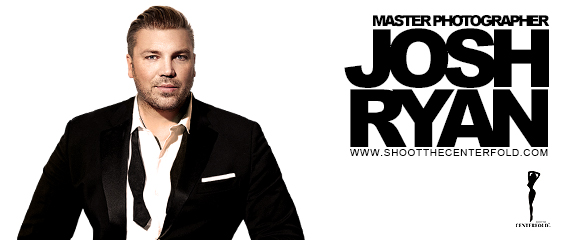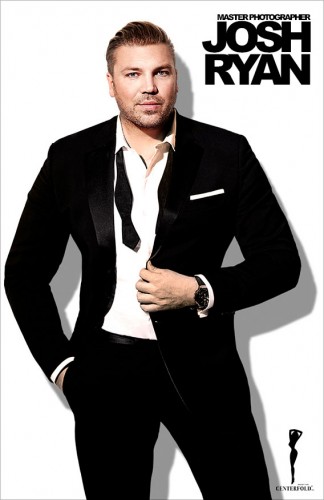 Shoot the Centerfold is proud to announce famed photographer Josh Ryan as the newest member of our "Master Photographers" family who will be joining us for the upcoming Miami April seminar.
It's a natural choice after his decade-plus as a photographer/Senior Photographer at Playboy USA. Josh brings a vision that is a perfect complement to STC's existing programs. Our attendees will get a rare glimpse into how he became one of the fastest rising Senior Photographers at Playboy.
Josh's unstoppable creative mind holds some of the most valuable wisdom any photographer has to offer. He quickly gained everyone's attention by "sexying up" Playboy's editorials. His signature look is responsible for Playboy's evolution from GND to the modern cutting-edge fashion style as seen in today's current magazine. As if that wasn't enough, Josh's skills go way beyond glamour and dive deeply into the fashion and commercial industries as well. Our STC Master Photographers had the opportunity to witness Josh's rise to stardom first-hand as colleagues at Playboy, so it's even more special for us to welcome a new master to the STC family.
Interview: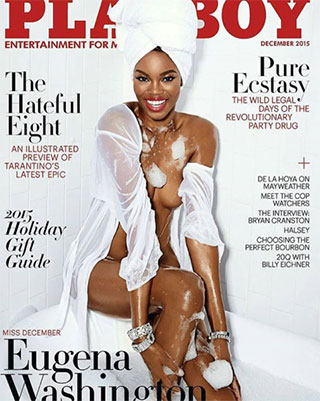 STC: Welcome to STC! So much has happened since we first met you when you came to Playboy. Over a decade has passed and we have to catch up!
Josh Ryan: Thanks. I'm happy to be here among visionaries who paved the way for guys like me. I can honestly say I knew you way back when, long before you ever created STC and I've always credited you, Jarmo, as a mentor…of what to do and not to do.
STC: For the past four years you were responsible for much of Playboy's new style and changes as far their playmates go. Let us know how you were able to convince Hef and get the editors on your side.
Josh Ryan: Well, it's been an interesting, fun, exciting, challenging road over the years. As you know, I started back in 2006 shooting for Playboy online and then transitioned into special editions and Cyber Club, then to Playboy Plus for their launch year and then finally to the magazine in November 2012. So I spent a few years working for all these different divisions and next to all of the veteran photographers, experimenting inside and outside the box.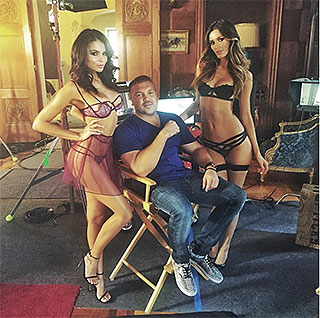 So I really kind of developed my own Playboy-style of shooting in a way. When I came on board the magazine the company had just gone private and was just starting its redesign. They hired a new creative team. They wanted a more modern fashionable approach. It was a tough sell at first, especially to Hef. I was bringing in these girls to test from my other swim and catalog shoots that were signed with Ford and Wilhelmina and Hef really didn't care for the tall slender "agency model" type.
He was accustomed to a certain type that was synonymous with Playboy for so many years. So a lot of these girls were getting denied. A few were sent back to retest because he did not like the lighting I was using. I was really stepping outside the box on these tests and started to take some chances and shoot some edgier editorial type photos and he just didn't like it. So I realized I needed to show everyone the potential and the range of these professional models but in a way that everyone could relate to and accept.
So I mixed a little bit of the old with a little bit of the new and eventually came up with a formula that worked quite well. As time went on I really started to shoot each individual test how I saw fit and Hef became accustomed to it. The art director Mac Lewis and I were always on the same page so I could always count on him for his support and understanding of how these girls should be shot. This type of protocol made it easier and easier to get these great models from all over. I also credit Photographer Tony Kelly for really adding his edge and style to Playmate shoots.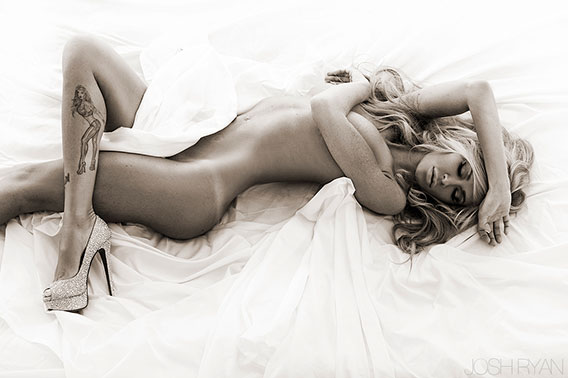 Jenna Jameson
STC: It has also been rumored that you brought in about 70% of the Playmates in 2015. What's the secret?
Josh Ryan: It's no rumor; it is, in fact, true. I have always kept my work outside Playboy fresh and moving forward. I have always been involved with other projects, campaigns, magazines so my network and constant flow of models has always been strong especially though social media. This goes as far back to Playboy online and special editions. I was doing the same thing then. But now with the magazine I had a larger platform and opportunity to really get some top quality professional models that would not normally consider doing Playboy but they now would because they trusted my vision.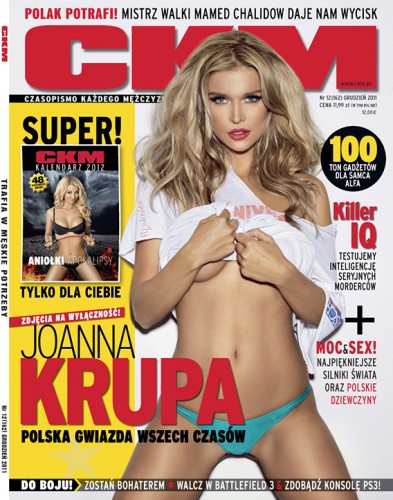 After the first year we had produced some really great fashionable, edgy pictorials that rivaled many other fashion mags not in Playboy's category. The nudity was subtle and just enough to where it really was more about the aesthetics and beauty of the pictorial, not just tits and ass. I really tried to incorporate the things I was passionate about: cars, boats, architecture, amazing furniture, fashion, luxury, exotic destinations.
STC: You rose to the top in Playboy faster than any other photographer we know. Was it luck, timing or raw talent?
Josh Ryan: Hmmm. Probably a bit of everything. Timing for sure, hard work definitely, but I've always been good at maintaining great working relationships with people that I collaborate with. That goes for inside and outside of Playboy. That ended up paying off for me when the Creative Director at Treats! Magazine came to work for Playboy in 2012 as the Photo Director and pushed for me to come aboard. Her and I had a great working relationship before Playboy so I can say that was a bit of luck, timing and hard work. But the bottom line as we all know who have shot for Playboy, you have to have something different that sets you apart from the rest. Something that makes people take notice. Call it raw talent, call it creativity or whatever you want. But there has to be an "it factor".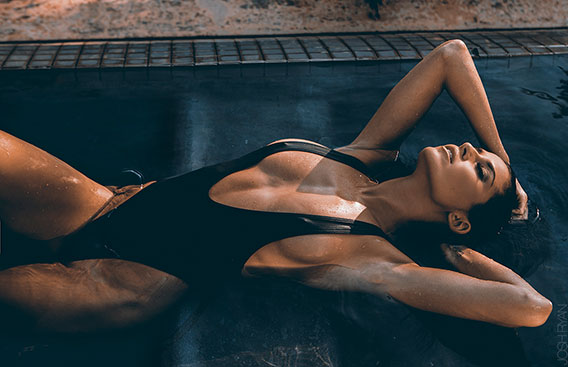 STC: If you have just one message for the photographers around the world, what would that be?
Josh Ryan: Keep shooting. There is always room to grow and learn even for veterans. I'm still growing every year as an artist. I always encourage my assistants and my interns to shoot constantly even if it's just practicing for a few hours on the weekend or at night to learn your camera and the way light effects space. You're only going to gain knowledge and training this way. I also feel it's important to shoot what you're passionate about. Study the masters in that field. I love being inspired by great photographers and photographs. Don't be afraid to take on the challenge of trying to recreate the lighting from one of your favorite photographs.
Experiment and Experience! It's the best training you can give yourself!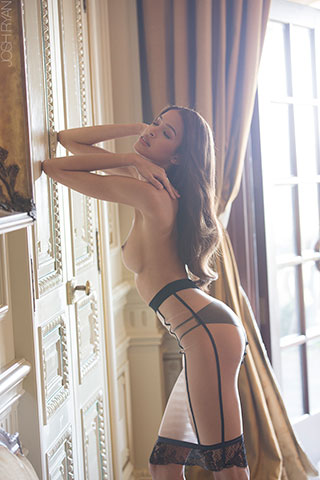 STC: Where did you learn most of your tricks of trade?
Josh Ryan: Experimenting, lots of experimenting. Also studying photographs and photographers, trying to figure out how something was lit or where the light was coming from and how it created certain shadows and highlights. I'm self-taught. I never trained under anyone or went to school for this. I just knew what I thought looked good and picked up a camera and figured it out. I also have to give credit to having good knowledgeable assistants. I have some very technically smart people working for me that made it a bit easier to achieve some of the looks I wanted. But eventually it all just made sense. Some of my methods I feel some would call quite unconventional but as long as the result works I feel it doesn't matter how you got there.
STC: What do you look for in the woman that inspires you to get your camera ready?
Josh Ryan: Number one: face. I love great faces. Faces that need little or no makeup are very inspiring to me. Of course a tall slender curvaceous body is on the top of most of our lists because they are so great to shoot. Then again there are times where you have an amazing beautiful model in front of your camera and she's a dud. It can become quite uninspiring. So when you find that perfect balance, which is the sweet spot. There have been times I'll meet someone and I get to know them and I'll get inspired to shoot them whether they are a model or not. I like to take people outside their realm and transform them into something that they haven't ever seen before.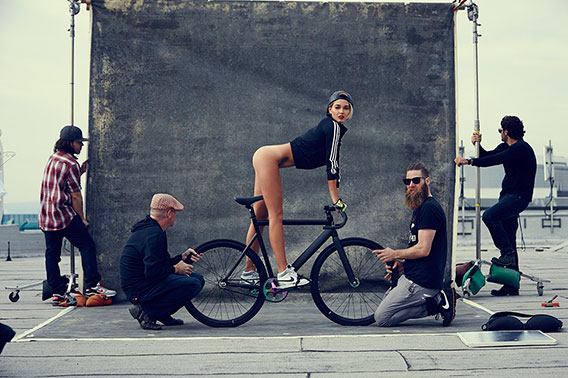 Josh Ryan's photoset
STC: What kind of cameras and lenses you own and shoot with?
Josh Ryan: I usually stick to one camera at a time. Currently, I'm using a Canon EOS 1D X. Great camera. It's never let me down. As far as lenses go I use a 24-70mm f/2.8 and a 70-200mm f/2.8 99.9% of the time and occasionally a 50mm.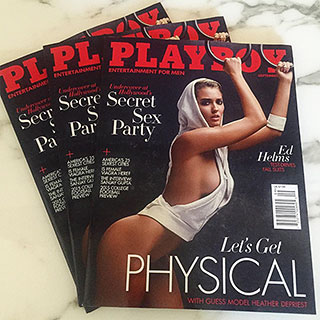 STC: How important is lighting to you in today's "less is more" market?
Josh Ryan: Without light there would be no photography! Light is the single most important element in a photograph. Even now with the "less is more" trend in photography. Creating a daylight look at night or giving a photo that soft ambient light look is more prevalent than ever. No matter where the trends go, mastering light will always separate the amateurs from the pros. I am constantly experimenting with light passage in ways that most people would never even realize. In fact, that is the goal. You may look at one of my photos and see a model on a lush textured rug against a beautiful piece of furniture but what you don't see are two large octabanks on a patio pointed into V flats then passing through two silks to give the photo the look of a beautiful simple morning light at 7PM.
STC: What is your direction and goals for the next ten years?
Josh Ryan: I'm excited about the years to come. My goal, first and foremost, is always to grow as an artist. I want to look back a year ahead and notice how my work has evolved. Mario Testino's work has always been an inspiration to me. If you look at his photographs over his career you can see a confidence that has developed in his subjects. They are lucky to be there know he's going to make them look amazing. That is a formula that cannot be taught by anyone but yourself and I hope I have had that effect on my subjects. Moving forward, more fashion and fine art is what I'm focused on. I plan to step outside my box a little with some large conceptual shoots that I've had brewing for a while. I envision amazing photography books by Josh Ryan on coffee tables around the world.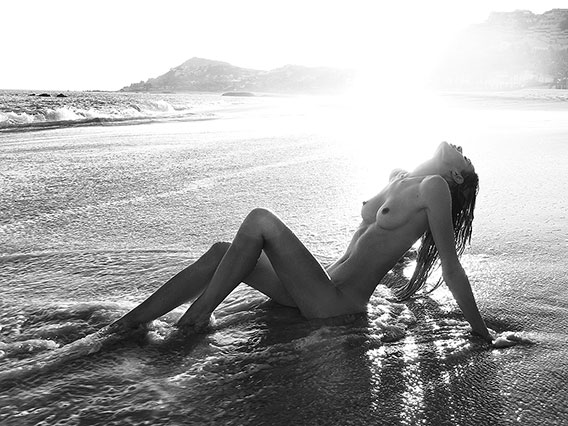 STC: If you weren't a photographer what would you be doing?
Josh Ryan: Easy. Architecture and interior design with some minor furniture design. I have a small obsession with mid-century modern design. So much so I've built entire shoots around some of my favorite homes and furniture pieces. I find it fascinating that you can walk into a home built 60 years ago and not know it. I get very affected by physical space. These masters like John Lautner, Frank Lloyd Wright, Richard Neutra, to name a few, were so ahead of their time. Their designs are timeless much like some great photographers. I've also been known to be quite a gear head. I always have a custom car or motorcycle project going.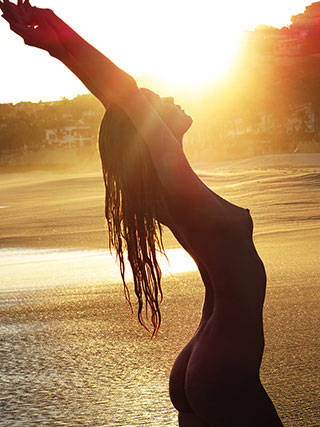 STC: What was your favorite shoot ever and why?
Josh Ryan: My favorite shoot, hands down, was a book that I was privately commissioned to shoot. It started in Megeve, France a couple of years ago and is still going. There is/was no budget and we created some of the most outrageous and amazing concepts during winter in the French Alps. Most of it was planned on the fly when we got to this little ancient ski town. The elements were very inspiring. I remember sitting in a pub that has been there for hundreds of years and there was this old large polar bear rug hanging on the wall. I immediately had this vision of a large bonfire in the snow in the middle of the forest with a beautiful nude body on it with only light from the fire… and we made it happen the very next night. That shoot was a true testament to my experience and skill level. I cannot wait until it's revealed.
STC: Your shoots are very fashion oriented. Even most playmates you shot are fashion influenced. How was this received by the editors and Hef?
Josh Ryan: The editors loved it. As I mentioned before I believe Hef really became accustomed to my style of shooting. Even in the beginning I received some great notes from him regarding some of his favorite pictorials. I always tried to give the perfect balance of a fashion shoot appropriately for Playboy Magazine. Knowing and mastering that balance and the limits of your model is key. Not every Playmate is a fashion model. So you really have to understand her strengths and her limits for the pictorial to make sense. I can't stress that enough about any photo. It has to make sense. A bikini in a living room does not make sense. Everyone please remember that. I also had to be careful not to scare away the readers as well. You need to give a little something to everyone in those photos.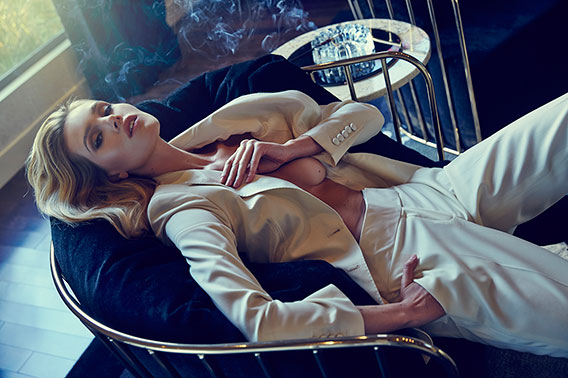 STC: The GND seem to have disappeared. Or has it? It seems that Playboy's new GND has a selfie-stick when referring to Playboy's 2016 March cover and pictorial. How do you see the future of Playboy's new non-nude approach?
Josh Ryan: I believe the girl next door that used to be the "gold standard" for Playboy is somewhat of an extinct species. The southern girl, the undiscovered college girl, the unknown secretary are all things of the past. The new GND is the Instagram or Snapchat girls that already have a following and are masters at selfies. 99.9% of model submission photos I get are selfies. It's become the way of the world. The line between model and GND has been blurred with the accessibly of social media and editing apps.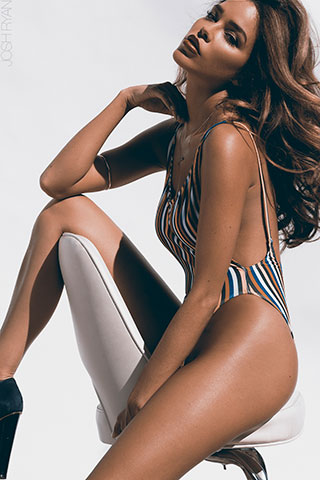 We are now in a world where being an "Instagram Model" is a thing. So now Playboy is now trying to become more relevant in that market of 18-24 year olds who are masters at social media. But was it too late to acknowledge that group? I believe so. I pitched the "Girls of Instagram" almost three years ago and there wasn't much interest. I'm not saying it would have changed magazine sales but I believe a strong entry into this world should have been done years ago.
It's not going anywhere. Whether or not the non-nude approach will be successful is yet to be seen. Maybe it will inspire more advertisers; maybe it will attract a younger readership. They have some good people working for the magazine but they have taken away the core of what Playboy was built on: the nude model. Without that, I'll be interested in what they have in store to attract their target demo.
STC: Magazine publishing seems to be in trouble according to the Internet and statistics. In your opinion, was it Internet porn that took Playboy to where they are today or was it mismanagement?
Josh Ryan: Obviously over the years content delivery has been key in the assassination of the adult Industry. No one is buying DVDs anymore and the days of the adult magazine section at your local bookstore has shrunk into a small corner. Anything we want to see, whether its photos or videos, is at the touch of your fingers. Even Playboy.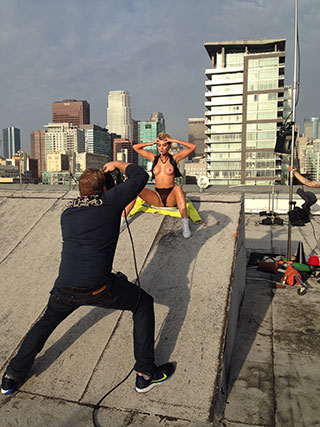 With that being said I have always felt there are just some things that are staples that you want to touch and feel in your hands. Like your favorite newspaper or the rag mags you get for a long plane ride. Playboy is one of those things that was exciting to get in the mail and see who the latest centerfold was and see where she was from and what her interests were, ect. It doesn't have the same impact when viewing it on your phone or iPad. But years ago these magazines came along like Maxim, Stuff, FHM and became a phenomenon. Suddenly, the girls Playboy was searching for wanted to become "Maxim" models. I truly believe that was a pivotal time where Playboy was no longer gaining young readers. In my opinion, the progression of change and focus to target that market was not addressed fast enough and that was an oversight by Playboy.
STC: Since the first day we met you, you were always super approachable and have kept your feet on the ground. Your ability to handle crowds was put to the test at the Playboy summit shoots. Our STC attendees have much to learn from you. Do you have a message about how anyone can ready themselves to the industry?
Josh Ryan: Stay humble. Soak everything in like a sponge, good and bad, and leave your ego at home. But don't be afraid to shake things up. Years ago I remember this guy that was young and hungry. He was low man on the totem pole in the line of great photographers but he always respected his peers. He eventually made a little noise at Playboy, maybe a lot of noise. He didn't shoot like the others. He experimented with a different style of photography.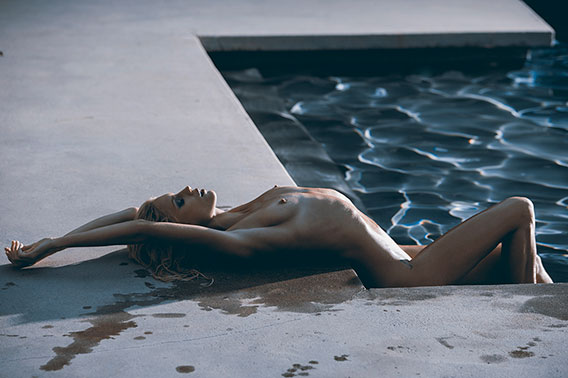 There were skeptics that told him to slow down and stop stepping on peoples' toes. He listened but stayed on course, worked extremely hard and took a chance. Eventually the right people took notice and he became Senior Photographer. That guy was me. The message to that story is: believe in what you do, learn from your peers and be nice to everyone along the way.
STC: You do most of your retouching for your pictorials. How much retouching do you actually do if we were to pick up one of your centerfold shoots?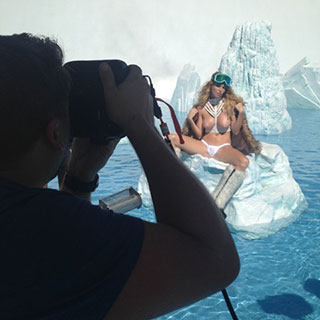 Josh Ryan: That really depends on the model. Obviously some need more than others. Nowadays, most of the time we're shooting to Capture One so I color everything right there in the monitor as I'm shooting so that eliminates a lot of post work. The photo looks pretty close to what we're going to get. But of course you want to polish it. So, yes, I retouch every photo. The goal is for the viewer not to notice what you did. There have been times where we loved the photo for the centerfold or cover but we liked a mouth or eyes from a different photo. So we swap them.
Or we change the arm or add hair from another similar pose. Small things that most won't even catch. I nip and tuck where it's needed. I've said this before: we're creating something artistic and it's to please your eye. I don't encourage people to think that every woman should look like this. I just do what I think looks good to me. It's like a painting.
STC: You have mastered photography in a fairly short time and we welcome you to Shoot The Centerfold with open arms. Welcome home.
Josh Ryan: Thanks.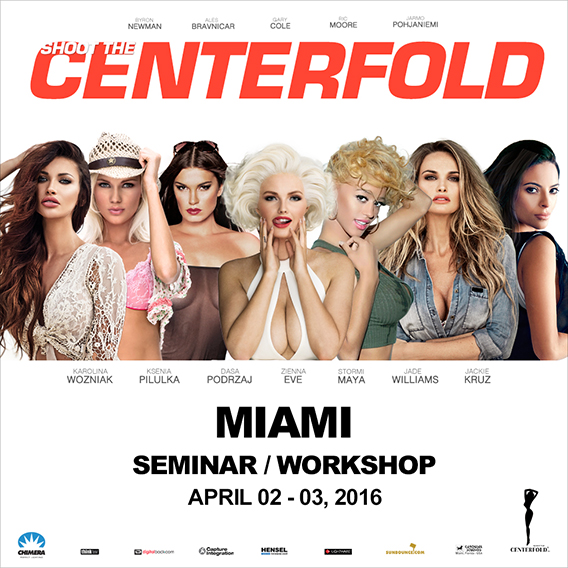 © 2016 Copyright ShootTheCenterfold.com. All rights reserved.