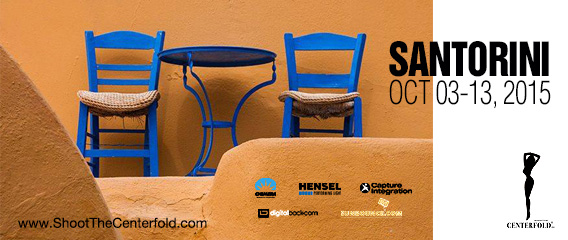 Santorini is best known for its beautiful white Greek architecture with splashes of blue, the blue sky and the magical light. The seminar is now less than 10 days away and our sponsors Hensel, Chimera. Sunbounce and Capture Integration/Phase One have sent us several palettes of toys to play with. This is very exciting and the past five months of hard work and planning is finally coming together.
There is no other place on earth that offers the same play-background for a photographer like Santorini. Anywhere you lay your eye, you will see something worth photographing, and I am not talking about our beautiful models that will travel there to make sure that you won't miss a thing!
To top things off, we will be shooting pictorial content and, who knows, some of you may end up in the pages of Playboy (hint, hint). So, the expectations are as high as they come. Below you will find a list of goodies that will enhance the epic experience.
Lighting

Two Porty-Kits (the full kit with two batteries per kit and chargers). One grid-reflector with 10º grid on each kit.
Two Hensel Ring flashes
Eight Hensel strobe/wizard plus (with sync cords)
Three Power Max Expert D1000's
Four Hensel Mini Heads
Three Power Max L's with extra batteries for each one
Two Hensel 4×6 softboxes
Two Medium Strip boxes.
Two Small Strip Boxes
One Grand 90 softbox with speedring.
Two Hensel Portable beauty dishes
Fifteen light meters – one for each attendee
Eight aluminum stands
4 AC Extension cords.
Two Chimera collapsible beauty dishes
Two Chimera 4×6 Super Plus Pro softboxes
Medium Format Camera's
Phase One XF body (2)
Phase One DF+ body
Phase One IQ350
Phase One IQ360
Phase One IQ180
Schneider 55mm LS
Schneider 80mm LS
Schneider 40-80mm LS
Schneider 110mm LS
Schneider 150mm LS
Schneider 75-150mm LS
Schneider 240mm LS
Sunbounce
Three 4×6 Silver/White reflectors
One 4×6 Black/White (Black-Hole)
One 4×6 ZigZag Gold/White reflector
Three 4×6 Silver/White Strips 14"
Three 2×3 ZigZagGold/White reflectors
Three 4×6 SunSwatters complete with pole
So, there you have it. Make sure that your own equipment that you will be bringing is well documented for customs and for your personal safety and protection.
In case you missed our "Your Assignment in Santorini" post, check out the exciting activity that we have planned for your ultimate learning experience. This is as close as you get to a real hands-on photo production anywhere.
See you in Santorini.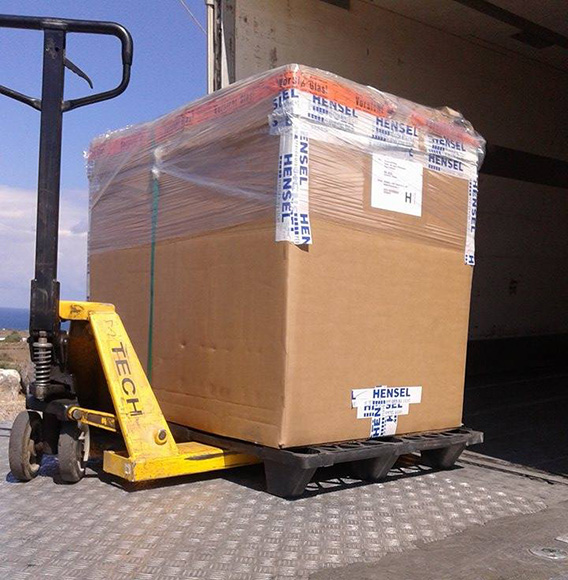 Several palettes of equipment (including the big boy toy box pictured) are en route to Santorini.
© 2015 Copyright ShootTheCenterfold.com. All rights reserved.