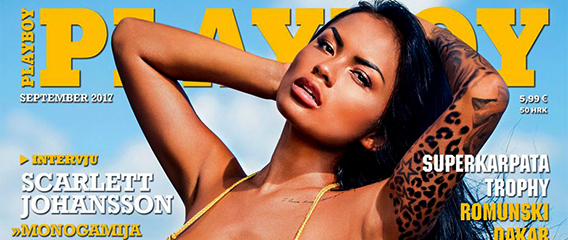 South East Asia is known for many beautiful things, and it came as no surprise that while photographer Aleš Bravničar photographed STC Model Serliana Rosida for Playboy, that we needed an entire waterfall to cool things down.
Once more, STC attendees were able to witness the cover as it was photographed and soak up a perfect lesson from Aleš who proved that not all photography sets are as simple as they may seem. Let's hear from our recent Playboy cover model Serliana as to how things came together. After all, Serliana is our second model choice for our upcoming Flores seminar taking place November 1 – 10, 2017.
Interview
STC: Congratulations on your second Playboy feature and a smoking hot cover out now on the newsstands.
Serliana: Thank you so much. I cannot believe that I see myself on the cover of Playboy. For a woman who grew up with a pretty crazy past and upbringing in a small remote village, life hasn't always been that easy compared to other women in the western world. The result was major insecurities which are only now slowly turning around.
Just being accepted and surrounded by real people has helped me to become who I am now. I just want people to know that not all people have the same starting points in life. This incredible opportunity has been a real blessing. I just want to thank you so much for believing in me.
STC: Since day one we were big believers in you, and there was something that no one could ignore. Tell us about your best secret weapon?
Serliana: Hey, have you seen my Playboy cover? I have been told that I have several secret weapons. Try to read the latest Playboy without getting the pages stuck together.
STC: You have risen to become a role model for many young Asian ladies. What positive message would you like to relay to all your followers?
Serliana: You have no idea how good it feels to be appreciated. Even the littlest achievement seemed so impossible and out of reach before you guys walked into my life.
My past serves a platform for millions of other Asian ladies. Through my healing wounds, I hope to help and support anyone in need. I have grown to see and share the wisdom given to me which I now pass to others to the best of my ability.
I have always followed my heart. From dark to light that now surrounds me with a message to others to not do things out of desperation because we all matter and are valuable humans regardless of region.
STC: We remember when you first walked through the beautiful entrance of Villa Zala Bali. We all froze and felt small while you filled the room with your presence and serenaded us while we were mesmerized. Tell us about your feelings and how have they affected you and your professional career.
Serliana: I'll remember that day for rest of my life. First, I did not know what to expect. Just one of those photographers visiting my country perhaps, I guess.
But walking through that gate ended up being the best thing I could have ever done! It changed my life; it gave me the power I needed to proceed to a whole new chapter in my life. It changed everything. I still wake up at night wondering if it's just a dream or did it indeed happen. I am not only talking about my Playboy feature but about the opportunity that arrived with it.
STC: All the beautiful locations that we traveled to while Aleš and attendees photographed you (thanks to Andrej from Villa Zala Bali for guiding us to the perfect places). Which of the locations was your favorite?
Serliana: My favorite spot by far was at Zala Villa Bali. Each time I feel like I'm coming home. It just makes me feel loved and comfortable. But, as far as the pictorial goes, that big green leaf between the villas served nicely with my Amazon-like appearance, as if it was made just for me. Andrej, can you grow more green leafs? They all have my name on them.
STC: What have you learned with your experience with Shoot the Centerfold?
Serliana: I have learned so much in such a short time working with Ales, Jarmo, and Mary who never got tired of my million questions. Before becoming a model, there are lots of things to learn and consider. One of the things that stood out for me was the professionalism. It's a job, and STC has shown the ultimate way of conducting just that. Thank you.
STC: You are our second model choice for the upcoming November 1-10, 2017 Flores seminar. We will place our bets that you are going to make our chosen locations look even better. A heart-shaped beach will never be the same. We think that some of the most beautiful places in the world require the most beautiful models before they are complete.
Serliana: Thank you, I am very much looking forward to seeing you all again and what the future has in-store for me. Please do not let this ever stop.
STC: Your popularity has also extended to other foreign territories. First, you appeared in Russian Playboy with photos shot by STC attendee Stefano Navarro, who photographed you at our very first STC Asia seminar. And now the cover makes you a truly an international cover sensation. Any early hints or ideas of where your career may take you?
Serliana: It goes without saying that the Playboy cover was a huge honor. No words can express my gratitude. Thank you for making that happen. One of my dreams is to be featured in US Playboy and hopefully many other magazines as well. You have given me plans, and I just want to enjoy them. See me in Flores, and I will tell you firsthand what my real plans are.
STC: Tell us about the steamy set on the beach while creating the cover and the slippery waterfall experience.
Serliana: Each scene was great and a bit like a marathon since we shot seven straight days.
The cover shot was unique with the rocks on the beach, and I was not afraid to get sand in those hard to reach places since the waterfall was there to wash off the remains of what went unnoticed.
I think I lost my clothes off my body too. The waterfall was loud due to the rushing water. I was not able to hear many of the instructions that Ales gave me, but it all worked out beautifully in the end. And, big thank you to the STC attendees who were helping.
STC: We are amazed for the turnaround of the waterfall shot. Then again, Aleš Bravničar is skilled to face any situation imaginable.
Serliana: It's a result and a combination of a model/photographer masterpiece. Let's do it again. The water and my thirst are still running. My nipples point you in the right direction.
STC: Name some influential photographers with whom you would like to work?
Serliana: I think I can never get enough collaboration with Ales and Jarmo from STC. I am sure there are more excellent candidates down on the road. But for now, these two are rocking my world with their cameras and direction.
STC: Well, there you go. For those who wish to take a closer look at her pictorial, or join our November seminar and photograph Serliana, click here.
© 2010-2017 Copyright ShootTheCenterfold.com. All rights reserved.