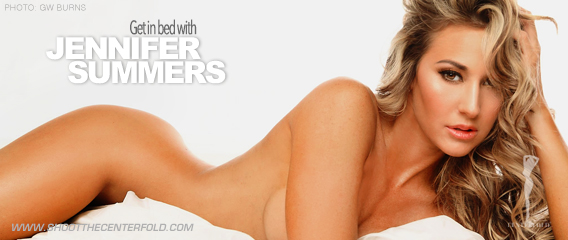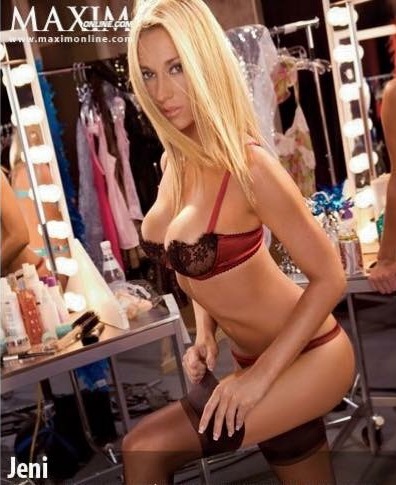 Meet Jennifer Summers, a fresh mix of summer and irresistible beauty that will slice any photographer's heart in two. Ladies and Gentlemen, prepare yourself for the best summer experience not available anywhere else. Just like her last name implies, you'll need to adjust your clocks to this Summers' tempo as she was a cheerleader and a team captain for the Buccaneers for eight consecutive years.
This 34C/24/34 bombshell isn't just another beautiful blonde, but also experienced in radio broadcasting and business. If that wasn't enough, Jennifer has her own successful spa business and we wouldn't expect anything less from this beauty but raking in money in the beauty business while getting more gorgeous every day.
You have seen Jennifer published in several magazines like Maxim and Playboy but she's also been seen on the runway and in commercials. But that's not all; Jeni is also a cover model for Playboy Mexico and the Miss September 2015 Playmate as well.

Jennifer, who claims to be an adrenaline junkie, nerd and a national champion and US ambassador in twirling 1-2-3 batons, is also a full time team member of the popular Paradise Challenge which qualifies her as a sexy spy coming to STC recognizing quality and taking back some wisdom. We are honored to have Jennifer join our April seminar and we expect dangerous curves ahead so get ready!
Interview:
STC: What a great pleasure to have you join our April seminar. You have lots of experience in all kinds of fields including being a savvy businesswoman and a sexy bombshell all in one perfect package.
Jeni: Thank you! Thank you so much for such a nice compliment! I have been very blessed to live a very cultured and unique life. I started traveling as a competitive baton twirler around the world at a very young age. I've always been a very independent and self-driven person who gets bored super easily so I'm constantly setting new goals for myself and love to stay busy. I'm always networking and wanting to do more. Being a very observant person makes me aware of all that I've been lucky to experience, good and bad, and recognize that my life experiences are what has made me who I am and where I am today.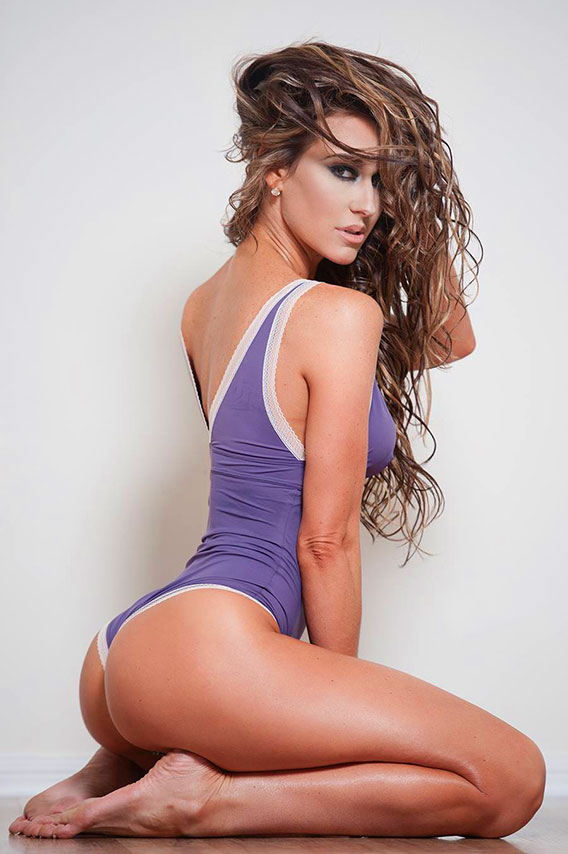 Photo: Joshua Paull
STC: What makes a woman with your experience tick?
Jeni: Anyone or anything that inspires and motivates me. I need people and things in my life that constantly stimulate me and my creative mind daily. I always need challenges for my active, outgoing personality. Yet, I also need things and people in my life that can enjoy doing nothing and silence at times. I'm a very multifaceted eccentric Pisces.
STC: Beauty aside, we are not quite sure what to expect from you at the seminar. Tell us, what do you have in store for our attendees and how should they get prepared?
Jeni: I'm really hoping to have the chance to be super artistic and create some looks that are different and over the top; something that's different than the rest of my portfolio. I hope that each every person I meet and work with at the seminar brings out something different in me and teaches me something new that's personable and has distinct individuality. And I hope to give the same in return while having fun and making many new friends in the industry at the same time.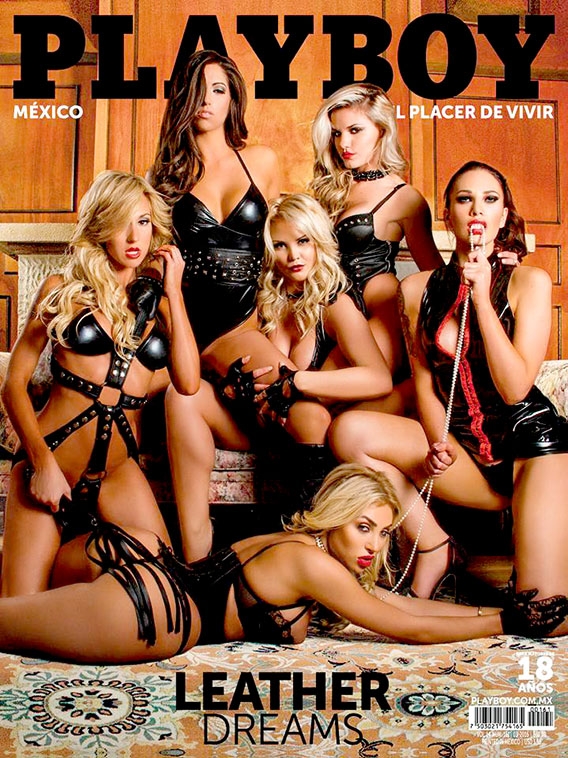 STC: It goes without saying that as team captain your experience will keep all the attendee photographers on their toes. In other words, GI Jeni is known to set the record straight on her terms!
Jeni: [Laughs] Yes, this is so very true.
But my leadership skills and captain duties know how and when to step up, be stern and get shit done.
When it's time for business, I know how and what to do. I am a very professional, organized, determined leader yet I still know how and when to be an informal leader also allowing others to find themselves, grow and develop with my guidance and motivation. I'm always being supportive and motivating to my whole team.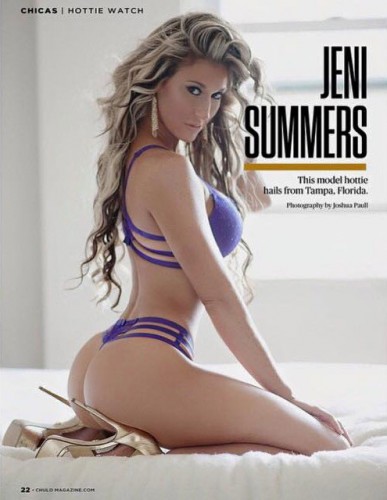 STC: You have recently become Miss September in Playboy Mexico. Tell us about that awesome experience and what opportunities it's brought with it. We know that you have been traveling a quite a bit.
Jeni: Wow! Being Miss September for Playboy Mexico has changed my life forever. It was one of the most amazing experiences of my life and quickly opened so many doors for me. Not only do I now have family and a home in Mexico but so many memories. I am actually currently back here on tour for my first ever Playboy cover with them. I now travel internationally at least once a month either on tour for Playboy Mexico, Paradise Challenge or modeling for various bikini and lingerie lines.
STC: Speaking of traveling, where is your favorite place you have traveled so far?
Jeni: I have been so very fortunate to travel all over the world. I've been to almost every U.S. state, Canada, Japan, Korea, Honduras, Ecuador, all the Caribbean islands, Guam, Australia, Scotland, Costa Rica, Germany, Spain, England, Bali and Mexico. But I have to say that my two very most favorite places in the world to travel is Mexico City for my career and familia with Playboy Mexico and Bali. Bali was one of the most spiritually enlightening places I've ever been to. I fell in love in every way. It's the most special place in my heart for so many reasons.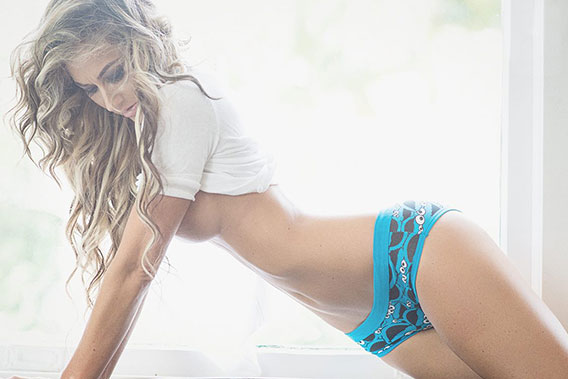 Photo: Joshua Paull
STC: You're also a key person for Paradise Challenge and in charge of marketing and administrative duties. You have great deal or experience around attendee photographers. What do you expect to see that's different at the Shoot The Centerfold seminar?
Jeni: From what I hear it seems like it's a totally different atmosphere and experience. I'm coming in with no expectations, only excitement and I'm honored to work with the legend himself, Jarmo, Mary, his team and the best of the best models and photographers that he has hand-selected to come be a part of such a well-known, respected and A-class VIP event!!!
STC: Since you're an expert in the field, what would be one valuable piece of advice you have for the photographers who are joining Shoot The Centerfold?
Jeni: Just be ready to have fun, let loose and try to connect on personal levels so that you can be creative together and come up with unique looks and photos. Be ready to teach and learn. If you really take the time to be open minded and to give and receive, I see Shoot the Centerfold being a very rewarding experience.
I personally am so extremely honored and still just beyond myself that I am having the amazing opportunity to work with Jarmo and his team and each of you that he sees something special in.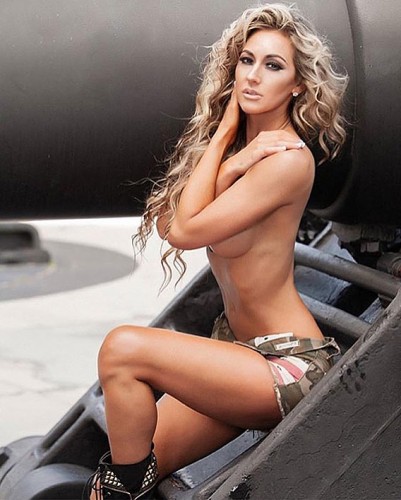 Vincent Pierce
STC: If you could go back ten years, what would you do differently?
Jeni: Wow, this is hard. One a part of me would say nothing because each and every day we wake up it is a stepping stone and experience that makes us each our own person. If you're really in tune with yourself and have the desire to, we can grow and develop by the minute. Ten years is a long time. A lot has happened and changed in my life the last decade. I am far from perfect and there are quite a few things that I would love to do differently but I also know that a lot of those mistakes taught me lifelong lessons that made me stronger and better; things which set me apart from the rest.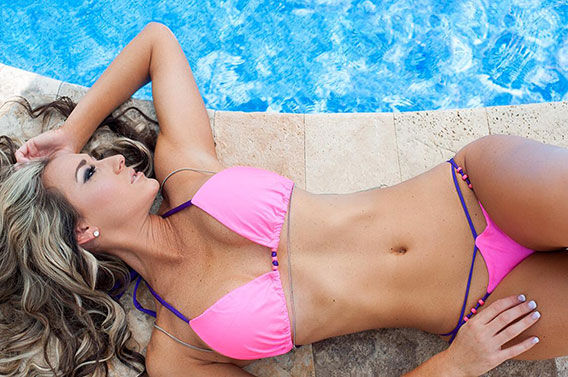 Photo: Joshua Paull – Bikini Crush Swimwear
STC: Based on your incredibly fit appearance, you must work out a lot?
Jeni: Yes, I do. I love being physically fit and active. My entire life I've been an athlete. I like to lift, run, golf, box, do Ariel yoga, bike, baton twirling and dance.
STC: They say to never date a photographer! What do you think?
Jeni: I know from experience it can be tough to date someone in the same field but I did meet the love of my life who is a photographer and it's amazing! We love being creative and shooting together. On and off camera it's fun to connect, relate, collaborate and work together. I find it unique, special and quite rewarding. But it is very rare that it works out; it takes two very strong patient people. I also think that if you do date a photographer or someone in the industry it's a one and done if it doesn't work out. It's a very small world if you know what I mean [laughs].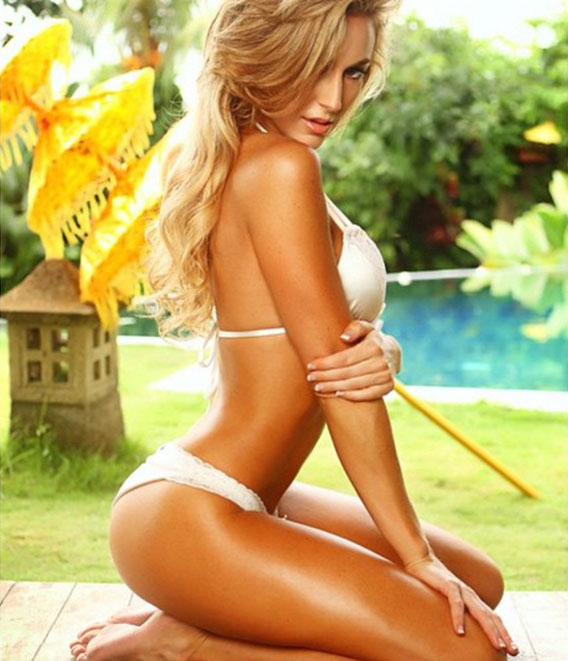 Photo: Mike Prado
STC: So, we take it that you are not single? (Duh!)
Jeni: [Laughs] Nope. Not at all. I'm very much taken and in love.
STC: What do you do for a hobby or in your free time?
Jeni: If I have free time I love doing anything active, sporty and adventurous especially anything that involves a good workout sweat session and/or water. I also am very close to my family so when I can I love to go home and spend time with my parents and my brother who has a beautiful wife and two kids. It's fun being an auntie.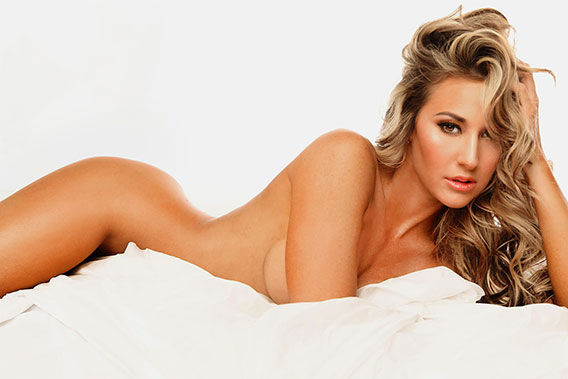 Photo: GW Burns
STC: Photographing nudes was a big no-no for you for a long time. What made you recently change your mind?
Jeni: Once my contract was up with the NFL as a Buccaneers cheerleader I was free to be much more open and adventurous with my pursuit of my modeling career and dream of becoming a Playmate. Now here I am and I wouldn't change for the world. I feel honored to be a model for Playboy and to be a brand ambassador of Playboy Mexico. It really has been a positive life-changing experience that has opened many doors and I can't wait for all that is still yet to come.
STC: If you were behind the camera, what would you be photographing?
Jeni: Everything! [Laughs] Photography is such gorgeous art. I love fashion, sports, beautiful women and landscape. I definitely would shoot glamour and photos of my adventures.
STC: Where will your next far-away destination take you?
Jeni: My next destination when I get back home from Mexico will be Ibiza. I will be traveling to Europe for a couple weeks at the end of April then to the Philippines in May.
STC: Facebook or Instagram?
Jeni: I love using Instagram and you can find me @jenisummers. Or, if you prefer, Facebook. My fan page is: https://www.facebook.com/jenisummers7/.
STC: Worst pickup line ever?
Jeni: If I told you, you have a hot body would you hold it against me?
STC: If a photographer wants to hire you, who should they call or contact?
Jeni: Of course Jarmo and Mary or my email is jenisummers@me.com.
STC: There you go. Captain Jeni has some clear expectations for our April seminar. Get organized and get ready for summer time with Jeni Summers!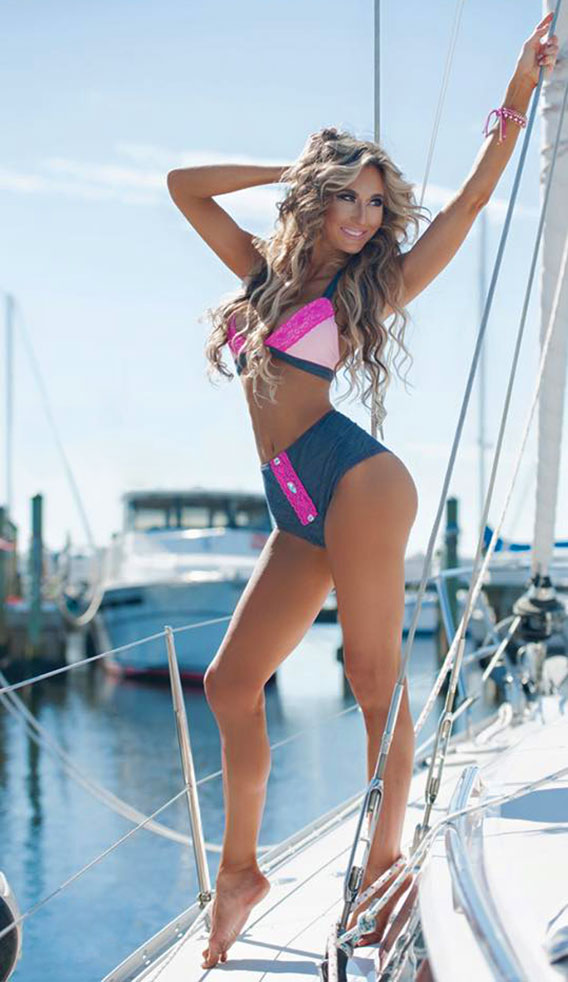 Photo: Joshua Paull – Bikini Crush Swimwear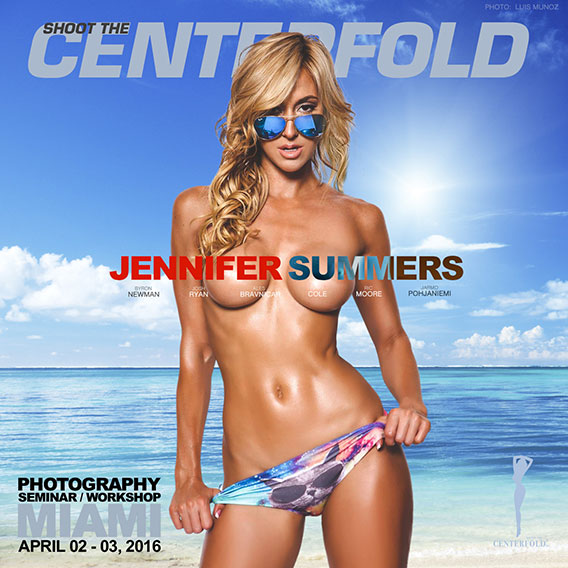 © 2016 Copyright ShootTheCenterfold.com. All rights reserved.