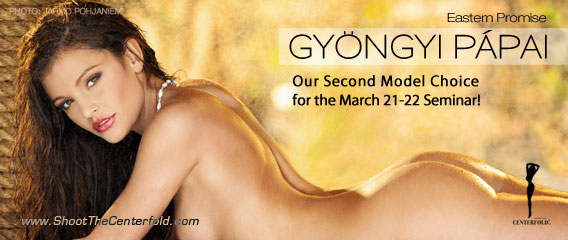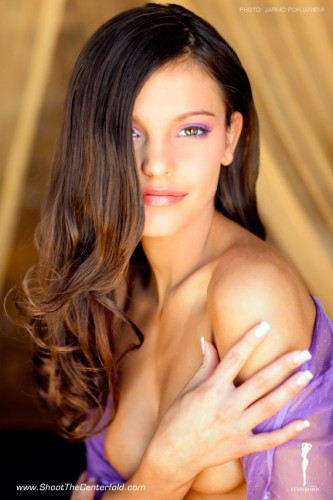 We hope that everybody had a great holiday season. We want to keep the holiday magic alive and start 2015 with a bang by introducing International Playboy Playmate Gyöngyi Pápai, our second model choice for the Shoot The Centerfold seminar/workshop happening March 21-22, 2015.
Gyöngyi is a Hungarian bombshell packed with a sultry 31-23-31 figure that will captivate and set you ablaze as it did for Jarmo Pohjaniemi. He first discovered her a few years ago and he immediately booked her and flew her from Hungary to Florida for a 14-days-in-a-row shoot.
Since then, her erotic appearance has been seen all over European publications and is a dream come true for any photographer who shoots beauty and glamour. Her persuasive and ambitious personality plays a big part of her sexy delivery in front of the camera and guarantees to put you in a photographic fever that leaves an everlasting impression.
Interview

STC: Gyöngyi, thank you for joining our March 21st-22nd seminar and we knew since our last shoot that it was only a matter of time before you were back in front of our cameras.
Gyöngyi: I'm so excited to work with the STC team and all the participating photographers. I really appreciate that you thought about me and chose me. Thank you 🙂
STC: Your career has skyrocketed in the last few years. If you could go back since you first shot here in the US and could anything differently, what would it be?
Gyöngyi: I think I have more self-confidence since I did my first shoot for the magazine. It's what makes me more comfortable in my skin, so if I could change anything, I'd do few things differently. I wish I could have been more myself when I started modeling and more have been more disciplined. But I am sure every young woman who enters the world of modeling wanting to do well realizes the mistakes we all experience on the road. What I have in me now is more a bullet-proof individual with real goals.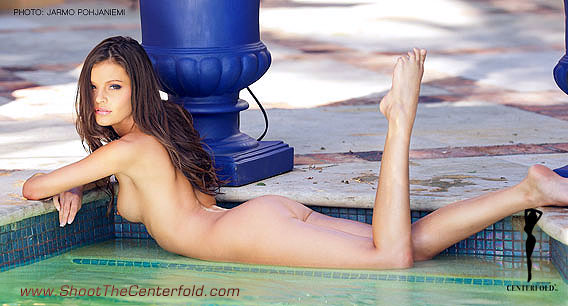 STC: What turns you on?
Men need to be just as crazy as I am. I also like ambitious people who know what they want.Gyöngyi: Humor is very important for me. I love photographers who can make me laugh. I like fun and weird but not creepy guys :D. They need to be just as crazy as I am. I also like ambitious people who know what they want. I think that is very sexy;)
STC: What turns you off?
Gyöngyi: If a person doesn't have self-confidence or if they're cold, rude, or negative,. That totally turns me off since I am a very positive person.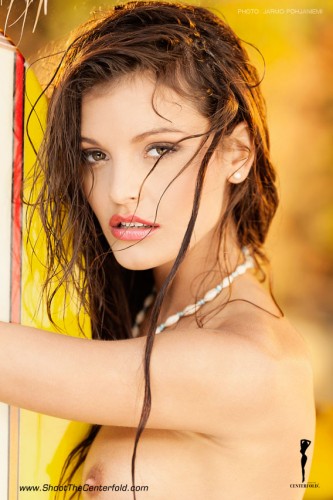 STC: You travel a lot and never seem to miss a beat. What is your true secret to your success?
Gyöngyi: There are so many things that I could mention, but one that tops all is modeling. I love traveling to beautiful locations and being in front of the camera. It makes me feel sexy and wanted. I guess every woman does 🙂 But most importantly the key to my success was knowing where to look for it. Looks sure do help, but knowing my direction has been the ace for me.
STC: Do you have any wishes or advance messages to our March seminar attendees?
Gyongi: [laughs] Be prepared and come loaded. I like photographers who know their stuff and know how to get the best out of me. Don't just aim your camera and lens at me, be vocal and make me move! Models like feeling secure with their photographer while shooting.
STC: You are also a sales manager at a financial institution? What's the story there?
Gyöngyi: Actually, I own a real estate company with my mom and we run the show. Since I was a young girl, my mom told that there has to be more to beauty than meets the eye. Success requires brains beyond beauty and managing funds is my other passion. Should you want to buy a house in Budapest, I'm your ticket! However, modeling has taken most of my time lately. But if you would like to challenge my financial skills and my brains … bring it on [laughs]!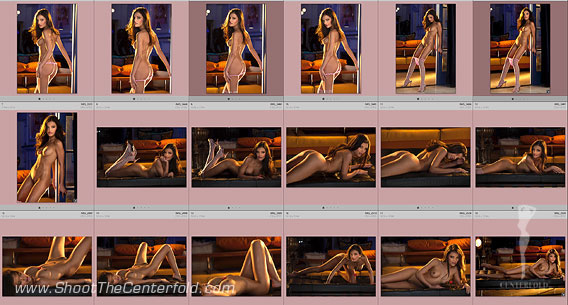 STC: It appears that there are big future plans with you and modeling. Is it safe to leak any of them? Should this be a hint for photographers to saddle up and get their cameras out now before its too late?
Gyöngyi: I don't want to spill the beans too early, but yes, be ready! Like the saying goes: "Things are very HOT and you cannot iron with a cold iron." Also, "Good things come for those who wait." Now, is the right moment 🙂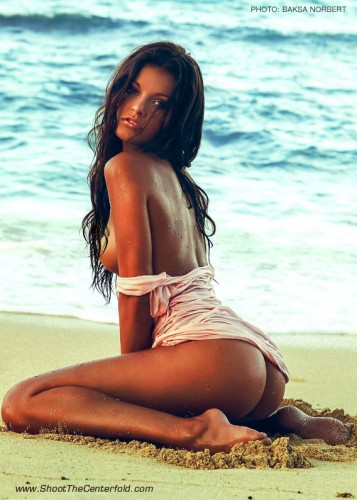 STC: Waiting is what we have been doing and it has been worth the wait. It appears that we are not the only ones in line but certainly have found a way to cut in that line. Moving along, is it true that Hungary is sexually more liberal than any other country in Europe?
Gyöngyi: Do you mean nudity wise? Yes, beauty can be found in many ways and should not be hidden. It's not a sin as long you know your boundaries. After all, Adam and Eve were supposed to be a symbol for us to follow and they were nude. Just keep in mind that nudity and beauty can be found in fashion, portraits, pornography, and even in your own household.
You choose what you want to see and if you cannot handle it, then don't look!
STC: Hungary has often been ranked as the country with the most beautiful women per population.
Gyöngyi: For a small county we have a lot of beautiful women. But you can surely find beauty all over the world. What makes us special is a perfect mix of European DNA. Don't believe me? Come and check me out at the seminar and I'll prove my point to you!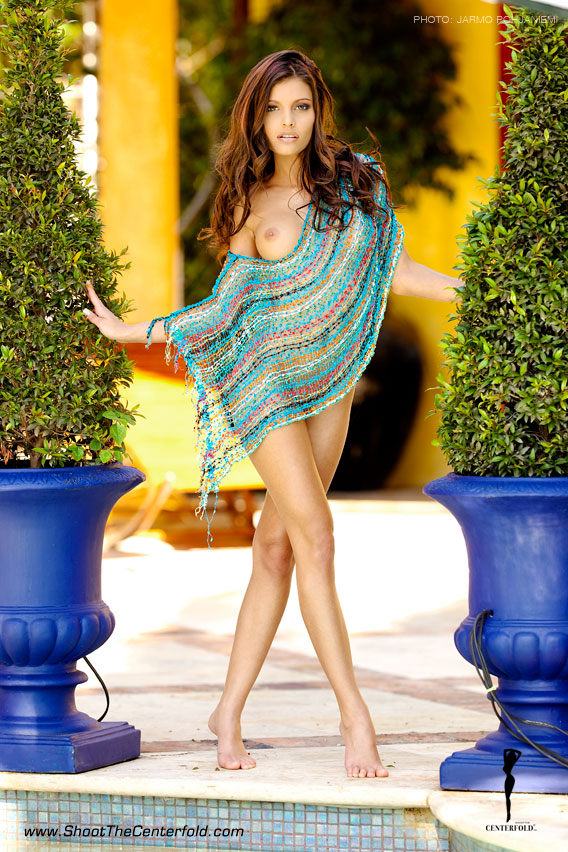 STC: Where do your roots come from?
Gyöngyi:  My mom and dad are both Hungarian. Me? I'm a mix of sexy Hungarian and rebellion 🙂
STC: Being a Playmate in your country has opened many doors and job opportunities for you. You also have also appeared on the cover of CMK magazine and many others which are very popular. How does Playboy rank in Hungary among the other publications?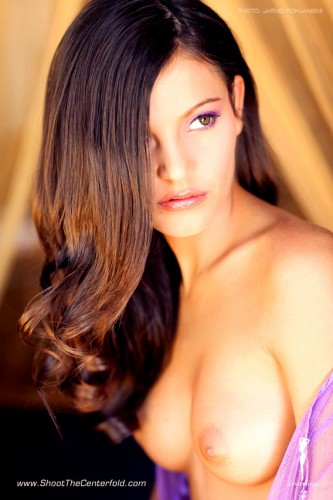 Gyöngyi: The biggest men's magazine in Hungary at the moment is Playboy. The other magazines come and go and some of them are not there anymore. Playboy, which keeps its quality and classy articles will always out-do many others. I'm really proud to be a part of it as a Playmate and happy that I was able to work with the best there is. It opened a lot of modeling opportunities around the globe and gave me more publicity. Thanks STC 🙂
STC: Where was the most beautiful photography experience you ever had?
Gyöngyi: Actually, I loved working in Miami with Jarmo and Mary who are actually responsible for my career in a major way. Miami is my favorite place to be and like a home to my spirit. The locations were really beautiful and the two-week long shoot went by way too fast. I hope to repeat the same over and over again. I also had a great experience when I shot for a Hungarian magazine in Mauritius. I love Greece and there are too many beautiful places on my list to mention and more destinations are in the making.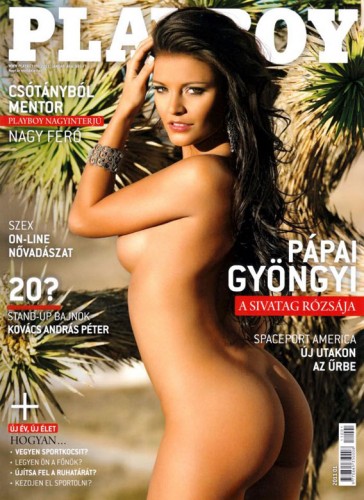 STC: If you weren't in modeling and real-estate, what other career choices would you seek?
Gyöngyi: I think I'm very approachable and I love everything about interactive actions. (Hey, leave sex aside!) I could imagine myself as an actress. It could be exciting to play other characters. I also would love to work as a TV presenter. Maybe I don't have it but maybe I do. I'm really interested in spiritual things, I love to read and study visions from the past and present. A few years ago I got into angel therapy and I help those in need. I think one of the goals of life is to help and serve those who need it.

Learn classic and modern Playboy lighting
STC: What is a perfect woman to you?
Gyöngyi: There are so many beautiful women but true beauty is what comes from inside and is displayed through the personality. A woman who looks beautiful has to have heart and a sense of humor. Relax girls!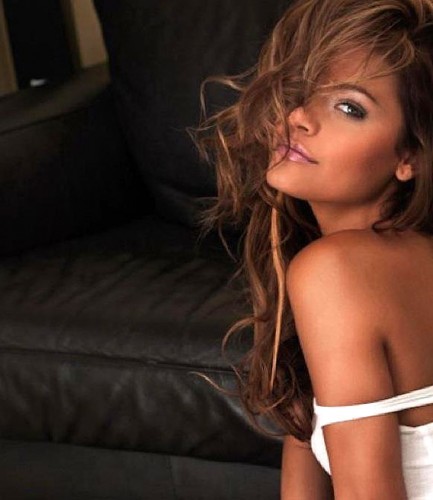 STC: What is a perfect photographer to you?
Gyöngyi: Photographers better learn to be a cool people. I don't like photographers who brag about their work. Let your work speak for itself. You don't have to be a pro, just be honest and not hide behind your camera. I believe that straight-forward communication between the model and photographer is often lost and replaced with sexuality. Don't get me wrong, photography is so much more than just a pretty girl.
I have learned so much in the past five years about modeling and photography that I can read the hits and misses in first few minutes when working with a photographer. The perfect photographer does not have to even own a camera, but he must have creative ideas and direction to guide my body and face. When he tells me and moves me, then he can get anything out of me he wants. That is a good photographer to me.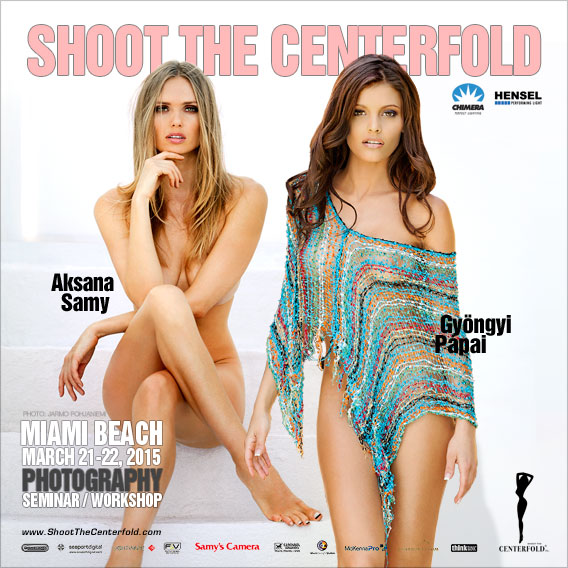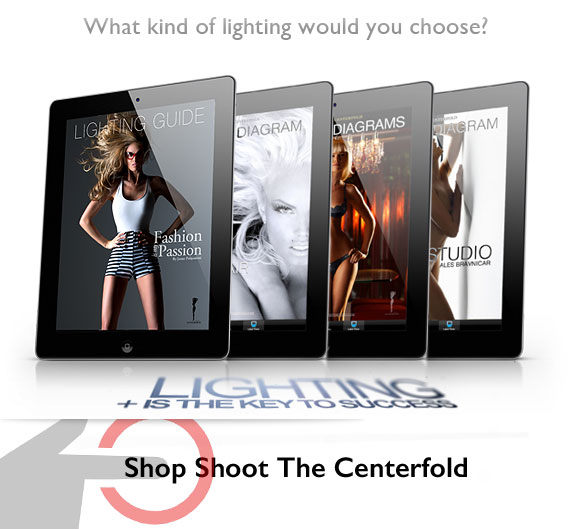 © 2014 Copyright ShootTheCenterfold.com. All rights reserved.