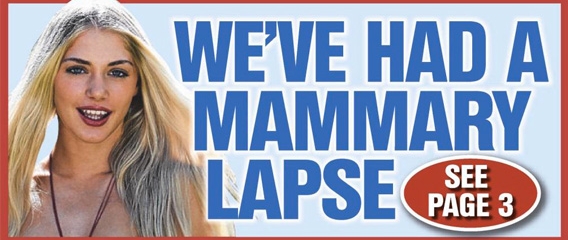 The Sun has published a picture of a topless woman on Page Three and mocked media outlets that said the long-running feature had been dropped.
On Tuesday, the Sun's sister paper the Times said the tabloid would no longer feature Page Three girls – but one appears in the Sun's latest edition. The supposed ending of Page Three was widely reported, despite the Sun neither confirming or denying it. On the page, the Sun "apologises" on behalf of all those who ran the story.
'Further to reports'
The Sun announces Page Three's return with a trail on the front page that reads:
We've had a mammary lapse."
It heads the image of the woman, who is seen winking into the camera, "Clarifications and corrections". A caption under the photograph reads: "Further to recent reports in all other media outlets, we would like to clarify that this is Page 3 and this is a picture of Nicole, 22, from Bournemouth.
"We would like to apologise on behalf of the print and broadcast journalists who have spent the last two days talking and writing about us."

Page Three has been a feature of the Sun for 44 years but has been criticised for being sexist and outdated.
The Sun does not always have Page Three pictures – they purposefully do not appear in the paper's weekend editions and, in recent years, there are many weekdays where the paper does not feature a topless image on the page.
The absence of a Page Three girl on Monday and Tuesday coincided with the report in Tuesday's Times, which is a fellow News UK title, that the Sun had decided to quietly drop the feature.
The Times said it understood that News Corp executive chairman Rupert Murdoch had signed off the decision. In its latest edition, the Times puts the record straight, saying its sister paper had "made a clean breast of it and admitted there's still some nudes to report".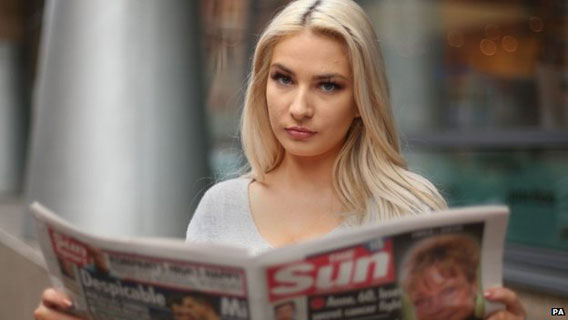 Glamour model Laura Lacole is among those who have posed for Page Three
'Sense of mischief'
The Sun's topless images have long drawn protests from campaigners, with an online petition against their use attracting more than 215,000 signatures so far. Campaign group No More Page Three was founded in 2012 and has since gained support from a number of MPs and anti-sexism charities.
The Irish edition of the Sun stopped topless pictures two years ago. Media commentator Steve Hewlett told the BBC's Newsnight programme that he believed Page Three still did not have a future.
He said: "It's [the Sun] always had a sense of mischief about it and, I might be wrong, but this smells to me very much like the Sun trying to say 'don't write us off yet, we still have a sense of mischief'. "Is Page Three on its way back full time? Personally, I very much doubt it."
Who Were the 10 Most Popular Page 3 Girls of All Time?
Here, we're taking a look back at 10 of the most popular Page 3 Girls ever to feature in The Sun. Many of these women got their start as Page 3 Girls and went on to become huge celebrities in their native Britain and further afield.
10. Jo Guest: DOB 22 February 1972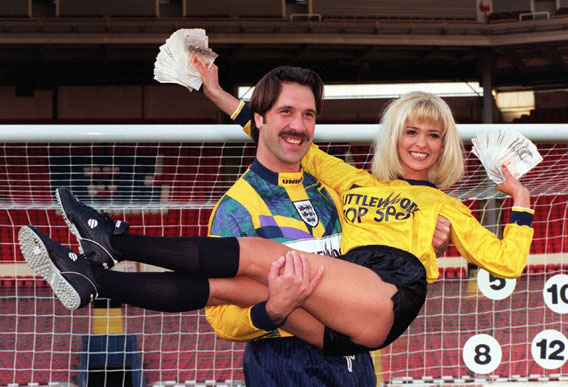 via www.whoateallthepies.tv
Jo Guest beat out quite a few famous names to feature at number 10 on this list, including the polarizing Jodie Marsh, former beauty queen Leilani Dowding, lads' mag favorite Sophie Howard and Suzanne Mizzi, a popular Page 3 girl from the 1980s who tragically died in 2011 from ovarian cancer at the age of 43. Jo Guest clearly had a clever agent, who exploited Guest's Page 3 fame to the max. She was a ubiquitous contributor to numerous magazines during her modeling days and she even appeared as a PC character in a game called Interactive Girls, which included a bizarre shaving scene…
9. Lucy Pinder: DOB 20 December 1983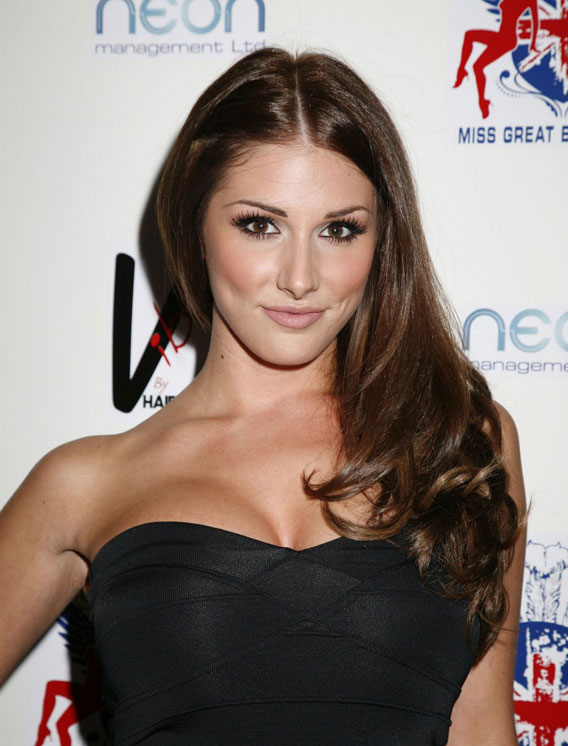 via www.celebpicturesnow.com
Pinder used a very clever marketing technique to boost her profile when it came to appearing topless. Although her glamour-modeling career began in 2003, she actually spent the next four years expertly covering her nipples. For some reason, Pinder's areola became something of a celebrity in itself, so when she finally exposed her full topless glory for the appropriately titled Nuts magazine in 2007, her star value shot up.
8. Kathy Lloyd: DOB 13 November 1967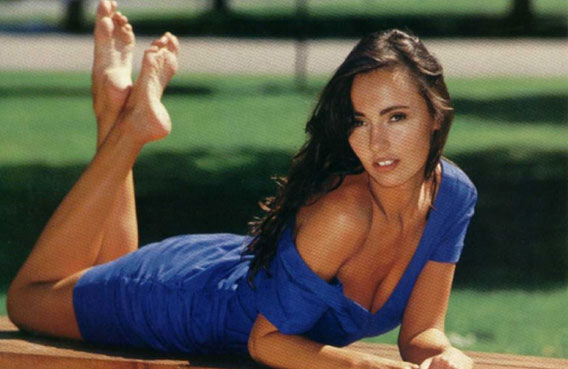 via www.cpfc.org
Lloyd will be fondly remembered by The Sun readers from the late 1980s. A simply stunning woman, Lloyd featured on Page 3 frequently and even appeared in the video for the 1987 hit "Senza una Donna" by Zucchero and Paul Young. The Welsh model was known for her exotic looks as much as for her bountiful curves.
7. Maria Whittaker: DOB 7 October 1969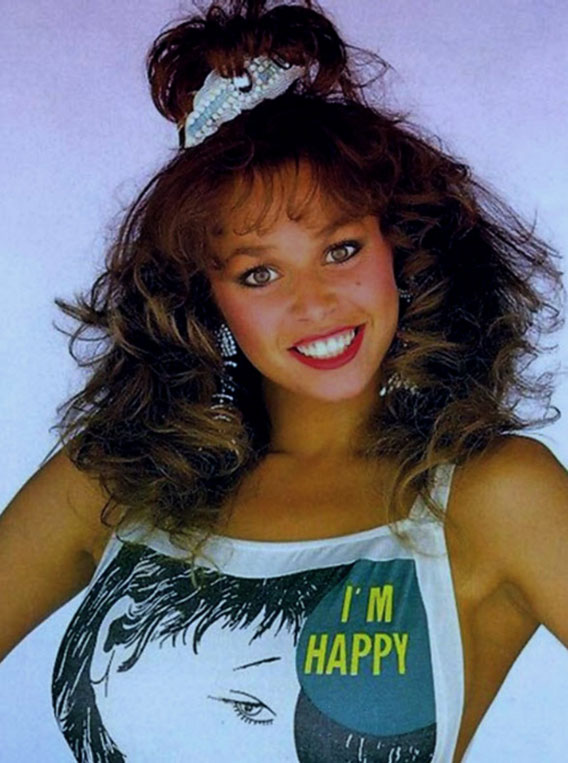 via 80s90sredux.tumblr.com
Another famous Page 3 girl from the 1980s is Maria Whittaker. Shockingly, compared to current moral standards, Whittaker first featured topless at the age of just 16. She was popular during the 1980s computer-game craze, appearing in one of the tiniest bikinis ever made for the cover of Barbarian: The Ultimate Warrior. A fledgling singing career was not a success but she married into the business, now enjoying a happy family life with the musician Rebel MC (Michael West).
6. Keeley Hazell: DOB 18 September 1986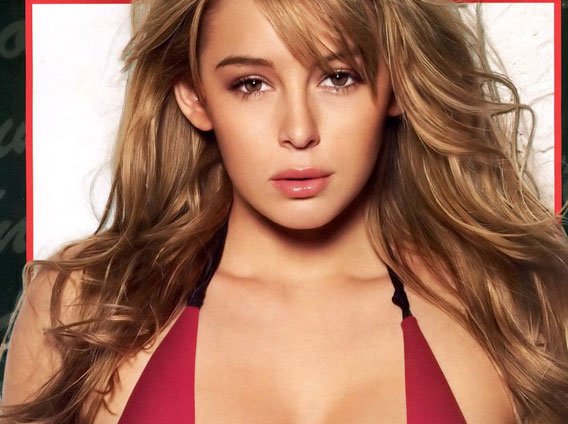 via Zoo magazine
Hazell has enjoyed almost unprecedented success after winning The Sun's Page 3 Idol competition in 2004. She has featured in games, television, films, made the obligatory attempt at a music career and has become a regular for FHM magazine. She is also known for working with charities, which include those working for animal rights and breast cancer awareness.
5. Melinda Messenger: DOB 23 February 1971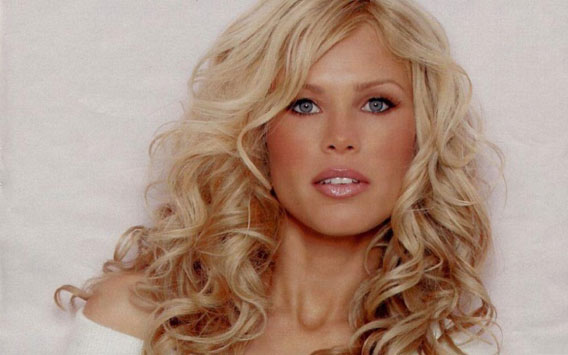 via paper-room-actor.blogspot.com
Few Page 3 girls have enjoyed the same level of fame as Ms. Messenger. Although her career was brutally cut short after The Sun readers voted only to allow natural girls – i.e. girls without implants – to appear on Page 3 (Messenger had her breasts enhanced early on in her modeling career), she still managed to carve out a very successful career as a media personality. Her friendly demeanor and likable personality have combined to help her become a television broadcaster and bona fide celebrity in the UK.
4. Helen Flanagan: DOB 7 August 1990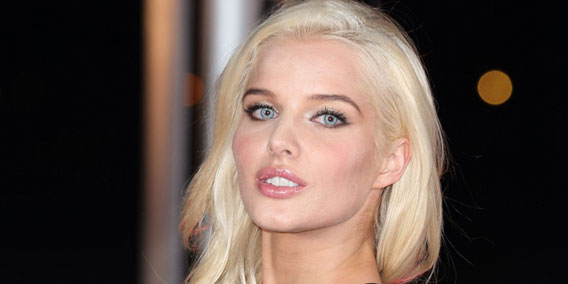 via www.huffingtonpost.co.uk
The youngest Page 3 girl on this list, Flanagan was already famous around the UK before exposing her breasts for The Sun in 2013. She had played Rosie Webster in the hugely popular British soap opera Coronation Street since 2000, appearing in over 900 episodes. Leaving in 2012, Flanagan, like the girl at No. 3 on this list, has become something of a polarizing figure. Over-exposure in newspapers, magazines and "celebrity" shows have made some wonder if the former actress is simply fame-hungry, or simply acutely aware of how much money her generous bosom can bring in.
3. Jordan: 22 May DOB 1978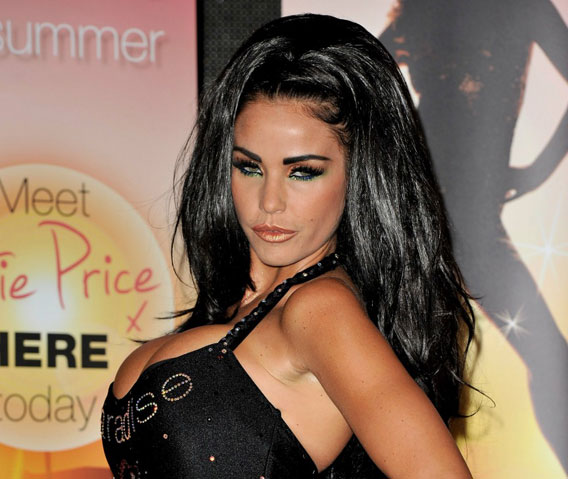 via mancave.cbslocal.com
Arguably the most famous glamour model in the UK, 'Jordan' (Katie Price) is certainly not the most beloved of former Page 3 girls. A glut of books, perfumes, reality TV shows and media coverage has led to Jordan becoming the British equivalent of Kim Kardashian, part of the modern cult of over-exposed celebrity. Many people will claim to dislike Jordan for several reasons, yet she still rakes in millions each year. Jordan began as a model and Page 3 girl at just 18, having sent her photos to a modelling agency. She went on to maximise her Page 3 fame, becoming a multi-faceted 'business woman'. 18 years later, she's still in the spotlight – for better, or worse.
2. Samantha Fox: DOB 15 April 1966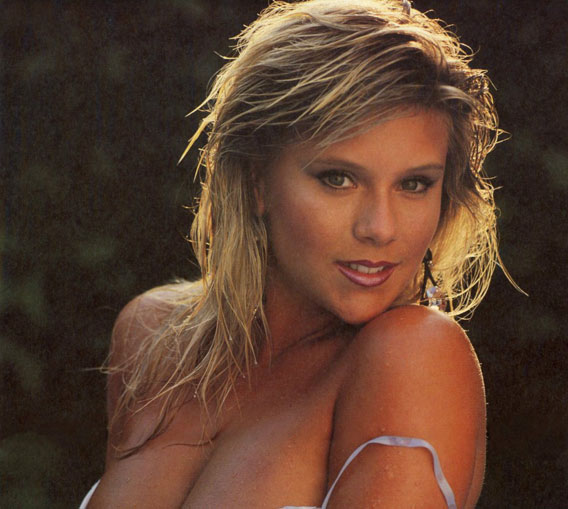 via imagozone.com
Sam Fox could easily be in joint top place for this list, but she gets pushed down to No. 2 simply because her star has waned somewhat – and because of her memorable and frankly awful stint hosting of the 1989 BRIT Awards. However, she is still fondly remembered for her Page 3 appearances and her relatively successful foray into the music business. Fox racked up quite a few hits in the 1980s, epitomized by the worldwide smash that was "Touch Me (I Want Your Body)". Fox has won several "greatest ever" Page 3 polls… but then so has the lady in the top spot.
1. Linda Lusardi: DOB 18 September 1958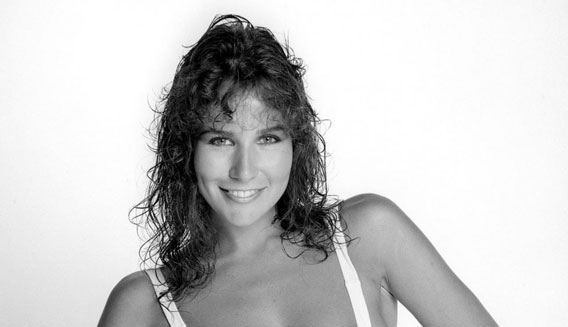 via the-wanderer.co.uk
First appearing as a Page 3 Girl in the 1970s, Lusardi has managed to retain a level of fame that is rare for most of the thousands of models that have appeared on The Sun's third page. Many might argue that Sam Fox deserves to be in the top spot, but Lusardi's career has been longer and did not feature any shambolic attempts at hosting music award shows. Still a regular on British TV, Lusardi had a recent recurrent role in popular soap opera Emmerdale and has established herself as a pantomime favorite. With a smile that lit up Page 3 – and many other attractive physical features to boot – Linda Lusardi is the crowned the most popular Page 3 Girl in the history of the Sun newspaper.
[BBC – The Richest]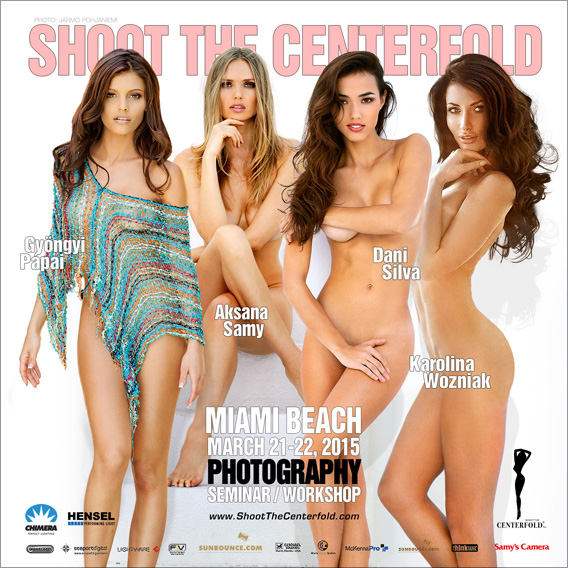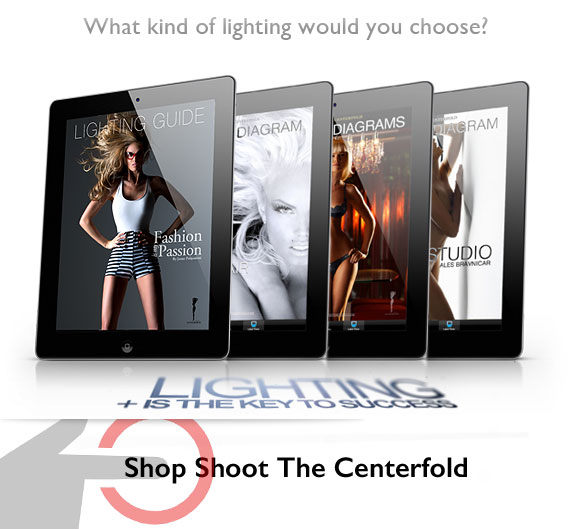 © 2015 Copyright ShootTheCenterfold.com. All rights reserved.