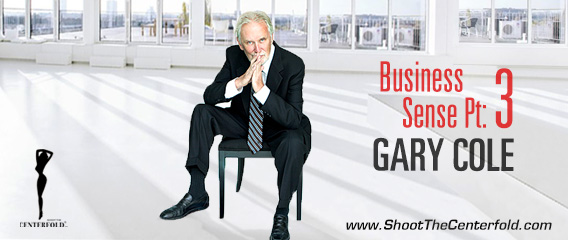 If the subject of how to succeed in the photography business by focusing on your client base and an intelligent use of your website, go back and read the first and second installment of "Business and Your Website" before proceeding.

Once Kevin Palmer (www.kevinpalmerphotography.com) and I had focused on mining as his number one client source, he reorganized his site in order to emphasize mining as a major skill and interest of his. Kevin realized he needed to supplement his mining photos to make his case even stronger. With that in mind, he arranged to travel a half mile down in the Barick-Hemlo gold mine in order to shoot a drilling machine.
It was a three-hour drive to the mine. It took him three hours to get in and set up his lighting. He spent the next two hours experimenting, making adjustment, figuring out how to light in such close quarters. There were electrical issues as his power packs kept knocking out the circuit breakers. He finally jerry-rigged something that worked. As Kevin said,
It took me eight hours to get ready for this shot and two minutes to shoot it."
In the process, he made friends with the supervisors of the mine and with the men in the mine who operated the machinery. In return for allowing him in the mine, giving up drilling time for the purpose of the photography, he gave them the use of this photo.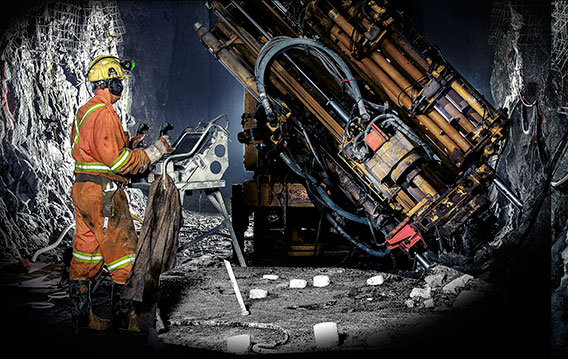 "Cubex Orion ITH Drill Photographed at 3,000 feet under the ground in the Williams Mine, Barrick Gold, Ontario, Canada.  Photographer Kevin Palmer"
With this he added a terrific and pertinent piece of work to his website. In fact, he's now using the photo as part of a press release and rate card that we're sending to 60 or 70 of the mining companies in Canada.
Another thing that Kevin has been able to put together is a team of people to supplement his skills and broaden his reach. He added me as a consultant; he added a young man, Gary Hu, in Toronto who is a web designer. He added another consultant, Dan Dionne, who was once the best mining photographer in Canada until an accident prevented him from actively working in the mines.
Kevin had already a lot of aerial photography for his tourism business but he has applied that to mining as well as quite a bit of mining is strip mining that sometimes needs to be photographed from the air. And he has added a photo drone to his bag of tricks, an inexpensive and very flexible way to shoot aerials in some situations. He's discovered Google Analytics which enable him to track who is looking at his site, how long they are spending on the site, how many are return versus new visitors.
All of this work is ongoing. He's not finished with adjusting his website and his business focus. In fact, that process will be ongoing as the business opportunities present themselves, as he finds ways to more effectively sell himself.
Does he still want to photograph beautiful women? Of course, and he will as his time, energy and interest allows. In the meantime, he is a photographer striving to succeed in the business of photography.
I hope you can see potential opportunities for improving your business by looking at his case study. Identify your strengths as a photographer or develop the skills needed to appeal to potential clients you identify in your area. Get the help you need to fill in the gaps in your knowledge and experience. Organize and focus your website in order to make it an effective marketing tool. Enhance your portfolio and get rid of weak or non-essential images.
Attend more STC workshops to increase your lighting and general photo skills. One note: Kevin attended one of the STC seminars a couple of years ago. He steadfastly maintains that he learned more lighting skills in those two days than he would ever have been able to figure out himself. And now he's using those skills, not shooting girls as a way to make a living as a photographer, but machines and the men who operate them.
~ Gary Cole
© 2015 Copyright ShootTheCenterfold.com. All rights reserved.