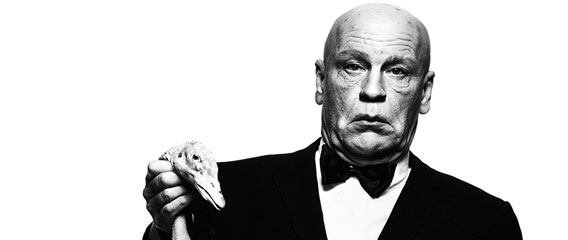 It's hard being John Malkovich.  It's even harder when John Malkovich is doing his best Marilyn Monroe, then throwing on a quick Andy Warhol, Einstein, and Picasso before ending the day as Salvador Dalí.
While Mr. Malkovich might not have a shot as a Playmate, this image series by Sandro Miller is a true inspiration on how to portray different personalities for a single individual and should be taken as great advice for photographers. This is a great example of how far you can take good planning and production before the actual shoot happens.
Having Malkovich himself is also a valuable contribution for the project since the man has mad skills and a hat full of tricks. This is an interesting collaboration between the two artists who teamed up to recreate some of history's most iconic portraits, naming the resulting body of work "Malkovich, Malkovich, Malkovich: Homage to Photographic Masters."

"Eighteen months ago I flew to France to see John, armed with a package of 30 iconic images by 28 master photographers, and to tell him about my idea for a new project," Miller explained in a release emailed to The Huffington Post. "After consuming two bottles of wine with John, I showed him my idea and he fell in love."
Miller said he and a team of experts spent the next eight months dissecting every last detail of the photos, an effort to ensure the project honored — not mocked — the original photographers.
"My biggest fear was that people wouldn't take this project seriously. I didn't want these to be a parody," Miller said in the statement. "I was serious about paying homage to these photographers and photographs that changed my perspective on photography. These images inspired me throughout my career and developed me into the photographer I am today … This is my way of saying thank you to the masters that created these amazing images."
In addition to serving as the model, Malkovich was "very involved" behind the scenes, says Miller. The actor often applied his own makeup — a process that took "at least two hours per shot" — and made his own wax nose for the Picasso and Salvador Dalí photos.
The full series will debut at Chicago's Catherine Edelman Gallery on Nov. 7 and run through January 31, 2015. Several special releases are planned for the project, too: cultural review magazine 7-Post will publish an exclusive interview with Malkovich on the series in its on October 3 issue, and the French newspaper Liberation will also run an interview on the project.
Dorothea Lange / Migrant Mother, Nipomo, California (1936), 2014

Albert Watson / Alfred Hitchcock with Goose (1973), 2014

Arthur Sasse / Albert Einstein Sticking Out His Tongue (1951), 2014

Andy Warhol / Green Marilyn (1962), 2014

Andy Warhol / Self Portrait with Fright Wig (1986), 2014

Art Shay / Simone de Beauvoir (1950), 2014

Carl Fischer, Muhammad Ali, New York (1968), 2014

Gordon Parks / American Gothic, Washington, D.C. (1942), 2014

Annie Leibovitz / John Lennon and Yoko Ono (1980), 2014

David Bailey / Mick Jager "Fur Hood" (1964), 2014

Diane Arbus / Identical Twins, Roselle, New Jersey (1967), 2014

Alberton Korda / Che Guevara (1960), 2014

Bert Stern / Marilyn in Pink Roses (1962), 2014

Irving Penn / Pablo Picasso, Cannes, France (1957), 2014

Irving Penn / Truman Capote, New York (1948), 2014

Edward Sheriff Curtis / Three Horses (1905), 2014

Philippe Halsman / Salvador Dalí (1954), 2014

Richard Avedon / Ronald Fischer, Beekeeper, Davis, California, May 9, (1981), 2014

Herb Ritts / Jack Nicholson, London (1988), 2014

Robert Mapplethorpe / Self Portrait (1983), 2014

Bert Stern / Marilyn Monroe, crucifix II (1962), 2014

Victor Skrebneski / Bette Davis, Actor, 08 November 1971, Los Angeles Studio, 2014

Yousuf Karsh / Ernest Hemingway (1957), 2014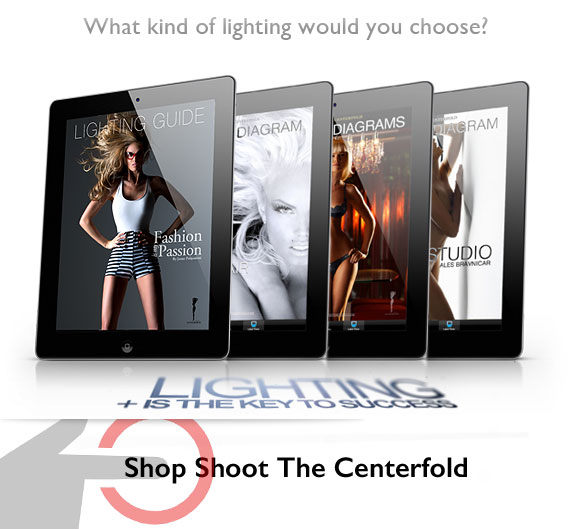 © 2014 Copyright ShootTheCenterfold.com. All rights reserved.