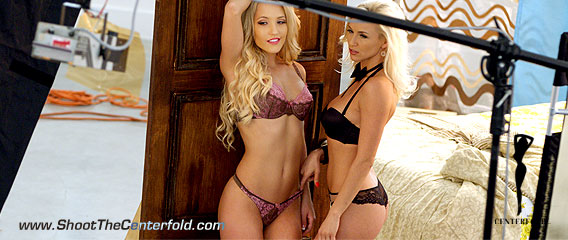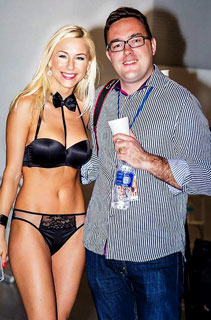 Miami Beach has become my new favorite US city. The primary purpose of my visit was not business, but my hobby, namely photography. I, Peter Kos was attending Shoot The Centerfold's (STC) workshop and I want to share a few of my thoughts regarding it.
As the title suggests, this is a review from an amateur photographer's point of view. Most of the other attendees (~50) were pros and while there are many debates on what makes photographer a professional, I look at it rather simply as this: a pro photographer is someone making money from photography. And most of the guys at STC fall into that category. As for me, I'm just a hobbyist that enjoys exploring the light and uses photography to hone the creative side of my life.
I do mostly street and travel photography, very few landscapes but I had never tried portraits and the like yet. And while I don't plan on making a living from my passion for light, I am a very curious person and wanted to experience the workday of a pro photographer.
Discovering STC
It happened that I stumbled upon one of the Ljubljana Creative Mornings talk shows where they hosted Aleš Bravničar, a well-known Playboy photographer from Slovenia. Aleš mentioned STC during his interview. I checked the site and a couple of e-mails later, I had signed up, paid and was excited to join the March STC in Miami.
arrived a couple of days before the seminar so I had a chance to settle and do some photo walks around this beautiful city, then polished my gear and went down to the Temple House Studios.
The whole workshop experience was great from the first minute. I got the chance to meet some wonderful people that are awesome photographers and it's all spiced up by breath-taking gorgeous models.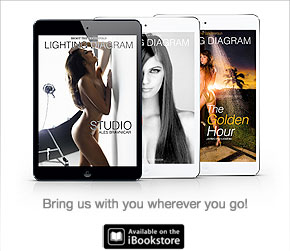 The STC seminar is designed as a big learning experience that starts with 5 guys sharing their story, hints, tips and guidance on how to make it in the world of Playboy and fashion, glamour and other types of photography. There were 4 photographers plus Gary Cole, longtime Director of Photography for Playboy magazine.
There ware lots of do's and don'ts, along with a portfolio review and all the guys there were available to take questions and share their wisdom and, boy, are they busy. With over 50 attendees, there are tons of questions and they don't get to experience a quiet moment!
The 4 instructors put together their signature-style sets, explaining the whole lighting setup, philosophy and then guided us through our individual shooting sessions. Each Master Photographer has a unique approach and look and here's a brief summary of what I experienced in the order that my group went through it.
I loved the variation of the sets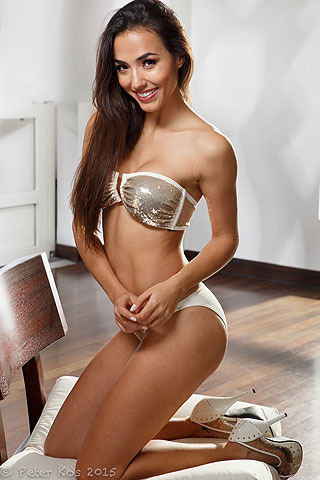 We started off on Ric Moore's minimalistic set with just a couple of lights, a cookie and Dani Silva. This was my first model shoot ever! Ric gave me great support and offered guidance and advice on both the camera settings as well as the composition of the image.
The next stop was the hot rooftop where Jarmo prepared his set and that was a blast. This was a very high-key look in the hot Miami mid-day sun with the amazing Karolina Wozniak. I was shooting with the 24-70mm f2.8 lens and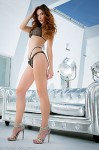 with a lens that wide, you have to come close, drop down on your back, make sure your feet are out of the view and fire away.
All the while, energetic Jarmo shouted hints on how to shoot and how to work with the model. "DANCE with the model, DANCE WITH THE MODEL!" still rings in my ears as he gave his drill-sergeant instructions: "YOU lead this. The photographer's in charge. TELL HER what she needs to do. LOOK! She's getting bored. DANCE WITH THE MODEL!!" We were melting in the sun but I walked away with some great shots (and sunburns).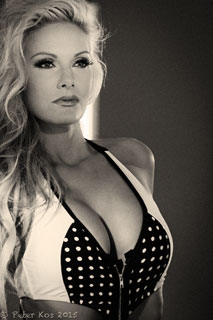 With my second shoot complete, I suddenly felt like I knew what I was doing.
With this new found photographer's confidence, I walked back inside to the next station: Byron Newman's classic setup with Hollywood film lights and do-it-yourself reflectors. If you didn't know that was thousands of dollars' worth of gear, you'd think you found a beautiful sofa in the middle of a junkyard.
Byron is quite a character with his British accent and low tone of voice that resulted in many requests for repeating his last words. But just like the other guys, he was dispensing advice and knowledge as we fired away at glorious Ralitsa Ivanova who was once named by esquire.com as "The Sexiest Bulgarian Alive". I was shooting Rali with my Canon 70-200mm lens and got away with some amazing shots.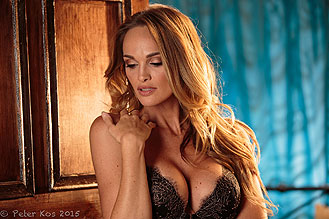 Next stop was Aleš Bravničar's geniusly-lit "typical Playboy" set with 8 lights including his "secret-sauce" Norman Tri-Light. Trying to learn that lighting setup can be like fighting a losing battle and is what separates a champion from an amateur. However, the set with the bed and brown door was just perfect for shooting brunettes in lingerie. So, I put my lobbying skills to practice to make sure our group got Karolina to pose and she was stunning.
Well, look at the gallery and you'll agree that Jade Amber Williams fit perfectly on this set as well. Her initials are JAW and you can bet she made many photographers' jaws drop to the floor.
Summary
So, should an amateur/hobbyist photographer attend the next STC seminar? After two 10+ hour flights, a couple thousands of shots and ~20GBs later, I can only say: HELL YEAH!
It's really a great learning opportunity where you get to see how titans of the industry work, get access to their skills and dip into their knowledge pool.
Apart from that, you can walk away with a solid portfolio with top models as there were a dozen stunning ladies available to shoot not only at the Master Photographer's sets but also on the side sets and outside of the studio. In addition, you get to meet and make friends with photographers of varying levels from all over the globe. A lot of attendees were returning to their 2nd or 3rd+ STC clearly stating they're getting value from each visit.
I'll definitely join their ranks and be there for the next STC as well.
Greetings from Ljubljana,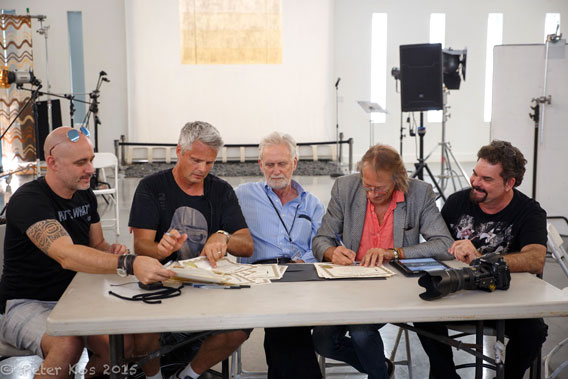 Left to right: Aleš Bravničar, Jarmo Pohjaniemi, Gary Cole, Byron Newman, Ric Moore.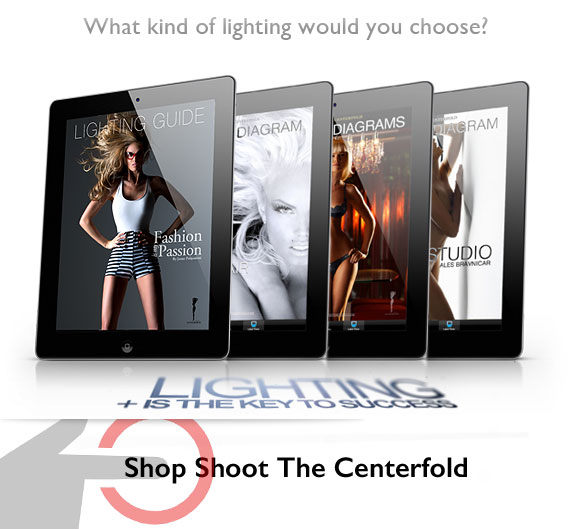 © 2015 Copyright ShootTheCenterfold.com. All rights reserved.